Spurs Odds to Win 2017 NBA Title Double After Duncan Retires
July 12, 2016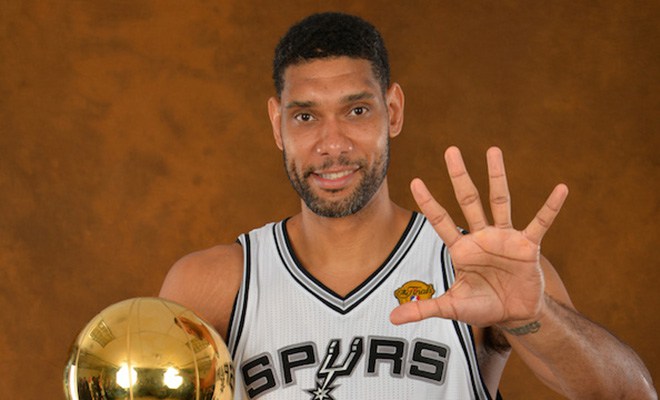 On Monday, Tim Duncan the long-time veteran of the San Antonio Spurs called it a career. The veteran announced that he was retiring from the NBA.
The announcement caused bookmakers to double the Spurs odds of winning the NBA championship in 2017 from 6 to 1 to 12 to 1.
Duncan played all 19 of his seasons in the NBA with the Spurs. He won five NBA titles, made 15 appearances in the All-Star Game and won two league MVP awards.
His final game with the Spurs was a 14-point loss in the Game 6 of the semifinals of the Western Conference against the Oklahoma City Thunder on May 12.
Duncan had 140 different teammates during his career with the Spurs. Duncan was never one to show many emotions or to bring attention to himself. He just worked both on and off the court on his game that helped to make him one of the best of all time.
His retirement ends the era in San Antonio of Duncan, Manu Ginobili and Tony Parker that has been one of NBA's most prolific trios.
The three won more games during the regular season and the playoffs than any other three.
Before anyone gets to upset over the Spurs losing Duncan and having their odds doubled to win the NBA title, the team remains one of the best in the NBA.
Only two teams – Golden State and Cleveland – have shorter odds to win the NBA title than do the Spurs even after Duncan announced his retirement.
San Antonio likely knew of Duncan's decision to leave before he made the announcement. That in turned prompted the club to push hard signing a top rated free agent.
The Spurs did just that when they signed veteran center Pau Gasol who had played with the Chicago Bulls the past three seasons.
Five Shortest Odds to win the 2017 NBA Title
Golden State 2 to 3
Cleveland Cavaliers 5 to 2
San Antonio Spurs 12 to 1
Boston Celtics 20 to 1
Los Angeles Clippers 20 to 1