Suspensions for Match Fixing Imposed in Tennis
July 26, 2016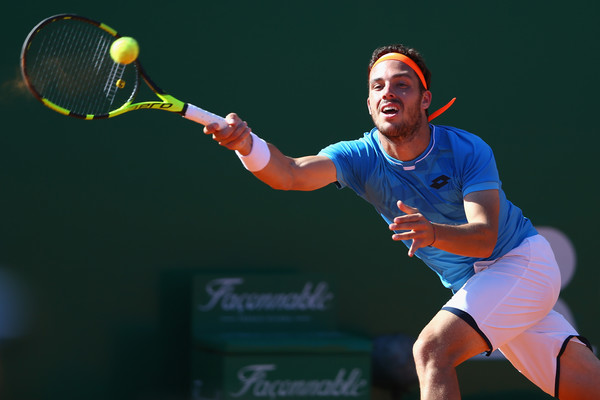 During a time of increased scrutiny for match fixing, the perceived inadequacy of the tennis watchdog Tennis Integrity Unit, the biggest profile conviction for match fixing was brought by a separate governing body.
Last week the Federation of Italian Tennis handed down a ban of 18 months to Marco Cecchinato while fining him 40,000 euros equal to $43,900 after the player was accused of match fixing in two matches he played in.
Cecchinato, who is 23 and from Palermo, Italy, is No. 143 in the world rankings. He is the youngest player from Italy in the ATP top 250, which makes him easily the biggest profile player that has been charged with a violation such as this.
He was in the main draws of the Australian Open, French Open and last year's U.S. Open. He was also part of Italy's Davis Cup team, which lost this month to Argentina though he did not play.
He was looked upon as one of the few bright spots for the country in what has been a generation of disappointments for Italian men's players.
He denied any wrongdoing and Antonio Reina his lawyer said Cecchinato would file an appeal. If the appeal is lost, he cannot play in another event until January of 2018.
Two other players from Italy, No. 842 ranked Antonio Campo and unranked Riccardo Accardi were banned and fined for the same case. Campo was banned for four months and fined $10,875, while Accardi was banned one year and fined $21,950.
Last year, two other players from Italy were hand lifetime bans. Those two players Potito Starace and Daniele Bracciali were banned for match fixing. However, an appeals court reduced the ban of Bracciali to one year and cleared Starace.
Details are rarely revealed by the Tennis Integrity Unit, but Italy's Tennis federation released a report of 47 pages on the case involving Cecchinato.
The focus their investigation was an ATP event and a quarterfinal match held in Morocco. He easily lost his match against a qualifier ranked No. 338 in the world while he was No. 82.
The loss did not raise suspicion but a gambling commission spotted large and unexpected bets on Cecchinato's opponent and reported them.