Texas A&M Has Big Value as 43.5-Point Chalk
October 26, 2016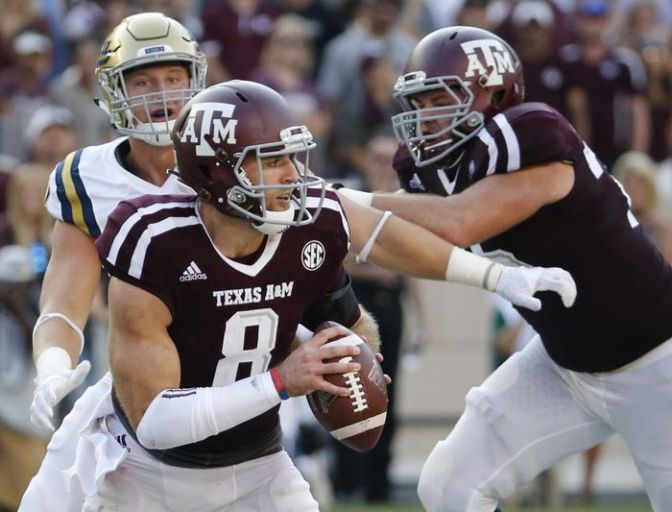 The Texas A&M Aggies are coming off a devastating loss to the No. 1 ranked Alabama Crimson Tide. Last week the Aggies were sitting at No. 6 in the nation but dropped to No. 9 after the loss.
However, during the season, the Aggies have been one of best teams overall with a highly potent offense led by quarterback Trevor Knight. This week the Aggies will play New Mexico State at home and will look to put the Alabama loss behind them as soon as possible.
Texas A&M is favored by an incredible 43.5 points. Some would automatically believe that nut was too tough to crack, but Texas A&M has good value when it comes to covering spreads of 40 points or more.
Texas A&M has been 40-point chalk or more on four occasions during the existence of its football program and has covered the number in all four of those games. In those four games, Texas A&M outscored its opponents by a combined 267-24.
In the most recent of those 40-point spreads, Texas A&M did not allow a touchdown.
One of the four games was played earlier this season between Texas A&M and Prairie View. The Panthers play in the SWAC and Texas A&M routed them 67-0 in a game that Texas A&M ran up 672 yards on offense.
This season, New Mexico State has played poorly in the Sun Belt. The Aggies have an overall record of 2-5 and a conference record of just 1-3.
New Mexico State is allowing 41.5 points a game. On defense, the Aggies are giving up almost 9 yards per pass, which is the fourth worst in all of the FBS.
That state means, Knight could have a huge day for Texas A&M.
In its games where it was 40-point chalk or more, Texas A&M beat South Carolina State 70-14 in 2012, UTEP 57-7 in 2013, Lamar 73-3 in 2014 and the previously mentioned win of 67-0 win over Prairie View on September 10.
The spread might look insurmountable but the historical odds are in the favor of the bettor in this one if they take Texas A&M less the 43.5 points.