Texas A&M Moving Up Futures Board for National Championship
October 12, 2016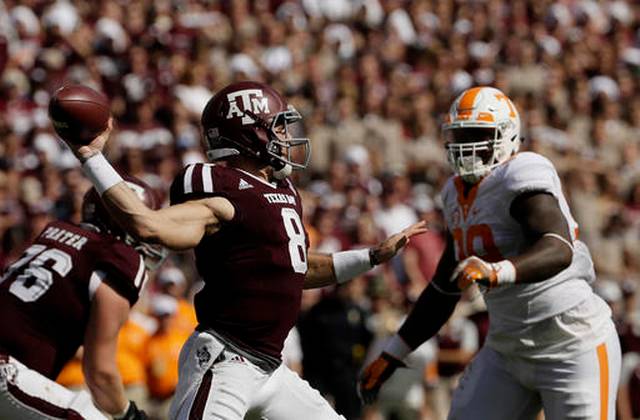 The college football regular season enters Week 7 on Wednesday. Conference schedules are well under way and the pressure is mounting each week for teams to continue winning as they attempt to reach that "Final Four of Football," the College Football Playoffs.
The road to winning the SEC championship as well as the CFP runs directly through Tuscaloosa, Alabama. However, Alabama is facing a few challenges along the road that could prove to be difficult. On Saturday, the Crimson Tide travels to Tennessee to face a tough Volunteers team.
The Tennessee game is followed by a home game against Texas A&M. This game could be the biggest challenge of the season for Alabama.
Texas A&M is sitting at 6-0 thus far with victories over UCLA, Auburn, Tennessee and Arkansas.
Offensively, the Aggies have been superb. Trevor Knight a transfer from Oklahoma has been superb under center. Thus far, Knight has 2002 total yards of offense along with 18 touchdowns. The Aggies are averaging over 40 points per game.
Defensively, the Aggies are giving up just over 19 points a game, while recording 19 sacks and forcing 17 turnovers.
Myles Garrett is one of the two best players in all of college football and Armani Watts might be the top defensive back the SEC has this season.
The Aggies are idle this week, which will give them time to heal any injuries and prep longer for their October 22 meeting against Alabama.
With a win or even a hard fought loss, Texas A&M will get some more well deserved respect they have yet to receive after such a strong start to the season.
A loss would be a huge setback for the Aggies, but they could close strong including a meeting with Ole Miss that could propel them into the CFP if any other teams falter.
Current 2017 Top 10 National Championship Futures
Alabama 5 to 2
Ohio State 13 to 4
Clemson 17 to 4
Washington 7 to 1
Michigan 10 to 1
Louisville 10 to 1
Texas A&M 18 to 1
Tennessee 33 to 1
Oklahoma 33 to 1
Nebraska 40 to 1