Three Teams With Questionable Odds to Win the National Championship
August 13, 2016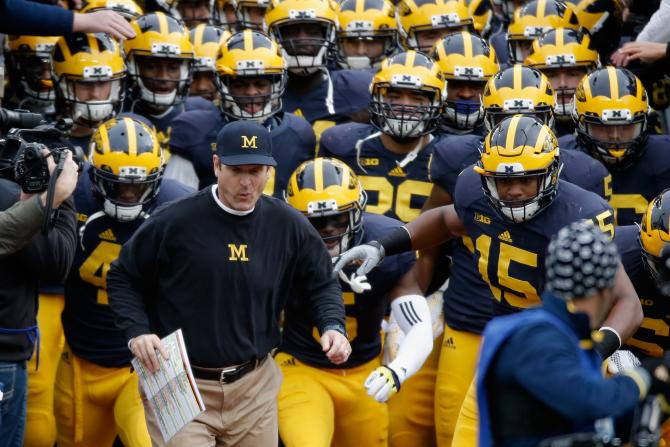 With the start of the 2016 college football season less than three weeks away, sports bettors are lining up their future bets for the National Champion.
Of course, there are always the true contenders and thrown in the mix a few pretenders. Here are a few teams that have very good odds to win the national championship, but who simply are not worthy of the line they now have.
On many sportsbooks, the Michigan Wolverines have the fourth shortest odds to win the national championship. What surprises many is, has Michigan proven themselves enough to have odds that are shorter than Florida State, Notre Dame or even Oklahoma? Quite simply, the answer is no.
Michigan has a football team full of talent and a coaching staff that is one of the best in the nation. However, they must play in the very tough Big Ten East Division and to reach the College Football playoffs will have to win the Big Ten title.
What that means is the Wolverines will have to finish higher than both Michigan State and Ohio State, and then beat the Big Ten West winner.
Quarterbacks mean so much in college football. Take the Tennessee Volunteers for example. The Volunteers are +1200 to win the national title.
Much of that is due to Joshua Dobbs, who for some could become one of the best dual-treat signal callers in the nation, but to date has not thrown for over 2,300 yards nor rushed for over 700 in a single season.
The Volunteers could get pat Georgia and Florida in the SEC East, but a three-game run visiting Georgia, then traveling to Texas A&M capped off with hosting Alabama could lead to their downfall.
Out west the Stanford Cardinal are +2500 to win the national title. The big question is why so short odds for the Cardinal?
Yes, without a doubt, one of the most versatile of all players in the college game is sophomore Christian McCaffrey the Cardinal running back.
Nonetheless, the remainder of the offense for Stanford has a big question mark over its collective head. Kevin Hogan is no longer at quarterback and three of the starters on the offensive line are gone.
Stanford has too many questions marks and holes to fill to be holding the tenth shortest championship odds in the nation.