Tom Brady Early Betting Favorite to Win NFL MVP
June 19, 2017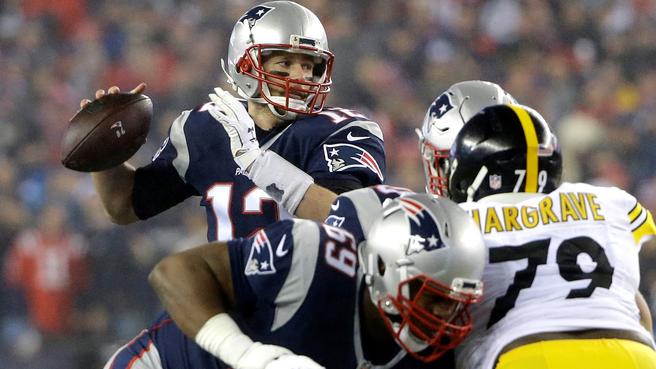 The NBA Finals and NHL Stanley Cup Finals have concluded, which means Major League Baseball has the sports betting headlines today, but in sports betting today it is never too early to make bets and that includes for the NFL MVP.
The opening kickoff of the 2017 NFL regular season is still two and a half months away but that has not stopped sportsbooks from posting their future boards for the NFL MVP during the upcoming 2017 NFL regular season.
The NFL has turned into a pass first league and currently in the league the most skilled passer is without a doubt veteran Tom Brady. Even as his career is nearing its end, Brady is still showing why he is considered one of the best quarterbacks to ever play the game.
It is not surprising that Brady is the early favorite on futures boards to win the MVP award for the NFL at 4 to 1. The MVP had been given to a quarterback the last four seasons.
The numbers that each of the previous four winners had when they won are in line with what Brady has averaged during the regular season over that same period.
Add in his receivers' corps returning from last season and the addition of Brandin Cooks to the mix and Brady could be in line to have an even better year statistically than last season.
Smart money takes quarterbacks in the NFL when it comes to MVP awards. Dating back to 2006, signal callers have won the MVP award in every season except one. In 2012, then Minnesota Vikings running back Adrian Peterson was named the only non-quarterback to win the NFL MVP the past 11 seasons.
The top signal callers in the NFL are at the top of the list trailing early favorite Brady. Tied with the second shortest odds for NFL MVP are Green Bay's Aaron Rodgers and Seattle's Russell Wilson at 10 to 1. Just behind that pair are Pittsburgh's Ben Roethlisberger and Dallas' Dak Prescott at 11 to 1. Rounding out the top five is Atlanta's Matt Ryan at 12 to 1.
It you are one to take bigger risks, the highest non-quarterback on the list is Dallas running back Ezekiel Elliott at 12 to 1. Last season Elliott led the NFL in rushing yards with 1631 and scored 15 touchdowns in just his first NFL season.