Toronto Raptors Are Fade Material for Game 1 Versus Bucks
April 14, 2017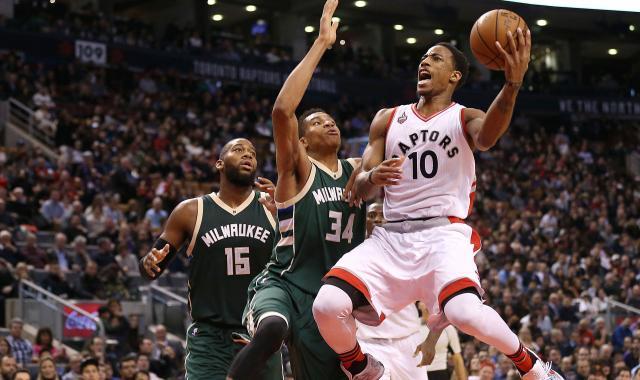 For many basketball pundits, the NBA is entering its second season, the postseason. With 16 teams that qualify for the playoffs the two teams that play in the NBA finals can play as many as 28 games if each series played went the full seven games.
One of the 16 teams to qualify this season for the playoffs is the Toronto Raptors. Toronto has been for most of its 22 seasons in the NBA a non-factor, but that has changed of late as the Raptors have now qualified for the playoffs for three consecutive seasons.
In 2016, the Raptors reached the Eastern Conference finals, before being eliminated by the eventual NBA champion Cleveland Cavaliers.
Although Toronto has shown success of recent qualifying for the postseason, one thing has remained the same – the curse against them in Game 1.
Toronto as a franchise has played in 11 playoff series Game 1s over the past 17 seasons and is just 1-10 straight up and 2-9 against the spread in those series openers dating back to 2001 when they won their only Game 1 of that span 96-93 over the Philadelphia 76ers.
Toronto is preparing for its 2017 Game 1 of a series where they will face the Milwaukee Bucks at home in Air Canada Centre Saturday to open their 2017 postseason in the first round. In all likelihood not much sharp money will be behind the Raptors in their opener.
Toronto clearly has the team with the most talent in this series, but that could also be said about their two opponents to start the playoff last season the Indiana Pacers and the Miami Heat who they faced in the first round and second round respectively.
Nevertheless, the Raptors came out on the short end of it against both the Pacers and Heat in Game 1 of the two series, even though both Game 1s of the two series were played in Canada on Toronto's home court.
This season that run of bad luck for the Raptors could change, but with the odds so lopsided against Toronto to open a series, fading the Raptors in Game 1 on Saturday might just have the most value.