Two College Football Win Totals that Say: "Bet Me"
August 19, 2016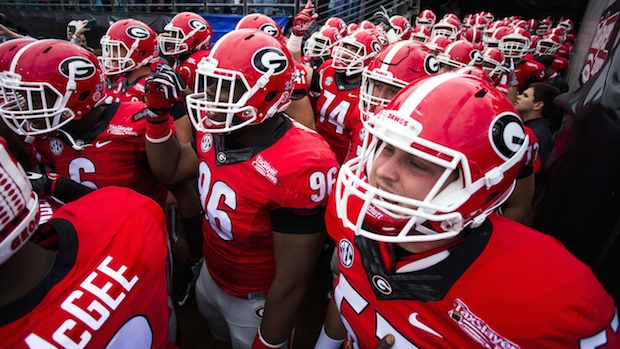 The 2016 college football regular season will kick off in just two weeks, which means sports bettors are trying to find the best value they can when it comes to making over/under win total bets prior to the start of this season.
Usually bookmakers are right on target when it comes to setting the odds for the over/under win total but there are always a few teams that fall through the cracks and their wins total jump off the page at experienced bettors.
Here are two of those that jump off the page and say, "pick me!"
The Georgia Bulldogs have a win total of 9.5 with the UNDER sitting on (-160). Georgia won nine games during the regular season last year with the help of a seasoned head coach; an experienced quarterback; and a talented running back who was healthy.
This season the Bulldogs will have a new head coach at the helm, who is a head coach for the first time and walking into one of the most high profile, pressure head coaching jobs in the sport, without ever being a head coach.
He will be doing that with likely a quarterback who is a true freshman and a running back, Nick Chubb who is coming off an injury.
Now add in a very difficult schedule that will include the likes of an improved Tennessee team, and cross-divisional matchups in the SEC with Auburn and Ole Miss and the UNDER looks solid here.
Iowa has been picked by bookmakers to win 8.5 games. The OVER is currently sitting on (-200). The Hawkeye should easily walk away with at least 9 wins and likely more.
Iowa is returning a number of its most talented players including its starting quarterback and the majority of its defense.
Top that off with Iowa possibly have an easier season than last year and the OVER looks even better.
They do not play Big 10 rivals Ohio State or Michigan State and while they will play Michigan, they will at least play the Wolverines at home.
It appears that four of the five toughest matchups for Iowa this season will be played on their home field, with the sole tough road game at Penn State, a program that has not returned to its glory days quite yet.
If the Hawkeyes cannot win 9 or even 10 games, than they should think of their season as a complete disappointment. The OVER here looks very strong.