Two Free Baseball Picks for Saturday
April 6, 2018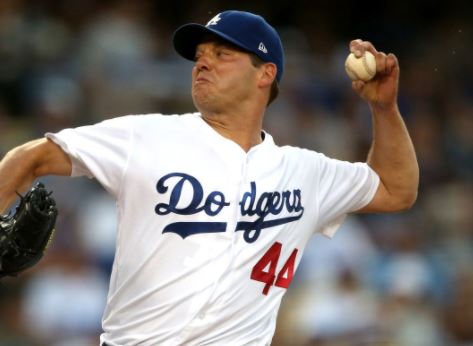 We are not paid handicappers. We are a sports betting news and sportsbook review company. But we love to play the games at the sportsbooks just like any other punter. We use the available information and compile it and make the best picks we can. Sometimes, we share our selections with the readers of this blog. This is free information so use it at your own risk.
LA Dodgers at SF Giants
On the mound for the Dodgers is Rich Hill. This is his second start in the young season. His only other start was against this same Giants team back on April 1st. He pitched 6 shutout innings giving up 5 hits. The Dodgers went on to smash the Giants in that game 9-0.
Rich Hill has had a late career surge. He has been around forever and has just really put it together in the last couple seasons. He is a big tall lefty with an OK fast ball / change-up combo and throws a mean curve.
Pitching for the Giants is Chris Stratton. He is a 27-year-old who is in his third season with the Giants. The 6'3″ pitcher throws a 92-95 mph fastball slider. He mixes in the change-up and will throw the curve to keep batters off-balance. Last season he went 4-4 with a 3.68 ERA.
This game is a rematch for these pitchers, as often happens this early in the season before injury can affect the lineup. Like I mentioned above the first game was a 9-0 blow out and we don't expect anything to change here. LAD are -155 favorites and SF gets +145. The total is 8 runs. I like The Dodgers and the UNDER. The Under looks good because both teams are not scoring very well and they aren't allowing a lot of runs either. LA is scoring 3.14 and allowing 2.71 runs per game. SF is scoring 2.67 and allowing 3.50 runs per game.