Two NFL Week 14 Games with Playoff Implications
December 9, 2015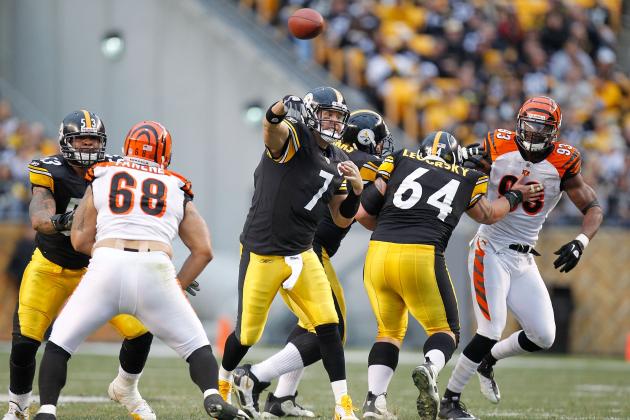 Week 14 of the NFL regular season has a number of games with playoff implications. Teams are battling for home field advantage throughout the postseason to just landing a wildcard spot to play in the postseason.
This week two games jump off the page as having huge playoff implications. In one, Pittsburgh travels to take on bitter rival Cincinnati and in the other, Dallas visits Green Bay with the Cowboys just a game out of first place in the NFC East.
Ben Roethlisberger threw for four touchdowns in Pittsburgh's Sunday night win over the Indianapolis Colts 45-10.
Since the home loss of 16-10 to Cincinnati, Roethlisberger has 1,533 yards passing and the Steelers are 3-1. During that span, he has 10 touchdown passes and only 3 interceptions.
Antonio Brown and fellow wide out Martavis Bryant likely are the most feared combination of wide receivers in football. However, the Steelers are three games behind Cincinnati in the AFC North.
A Cincinnati win clinches the division. The Bengals have allowed 10 or less points in five of their past six games overall that started with the 16-10 win over Pittsburgh.
The Bengals defense leads the NFL in points allowed at 16.3 per game, while the Steelers offense has averaged 34.3 per game over its past four games.
Lean here with the Steelers.
Playoff hopes for Dallas were rejuvenated with their last second win Monday night over Washington. Green Bay is tied for first in the NFC North thanks to a Hail Mary touchdown pass that beat Detroit last Thursday night.
The Packers have a depleted receiving corps and must play better than last Thursday to hold off Dallas.
The Cowboys are once again without Tony Romo and have a short week due to playing Monday night, which will work against them.
Aaron Rodgers has 14 touchdown passes and just 3 interceptions this season at Lambeau Field, but the Packers have lost two consecutive games at home.
Lean here with the Packers