Vegas Woes: Gambling Around the Country and Online Eating Into Vegas Profits
April 25, 2014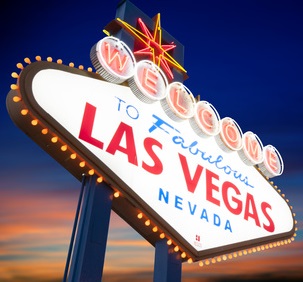 Las Vegas is the gambling capital of the United States. High rollers and regular tourists from all over the world travel to the city affectionately known as Sin City hoping to win some money on blackjack, slots, sports betting, poker or other casino games. This has been the case for the past 50+ years and Vegas always will be the top spot in America to gamble. However, the city has taken hits in recent years due to a few reasons.
Mediocre economy leads to a decrease in tourism and gambling
The economy impacts not only the gambling industry, but also the travel industry. With more people out of jobs now than a decade ago, fewer people can afford to travel and gamble. Vegas has always been a top tourist destination (and always will be). But the number of tourists traveling to Las Vegas each year is on the decline, much like other destinations. When the economy improves, so will Vegas tourism. Don't take that the wrong way. Vegas still is a tourist hot spot and the Las Vegas Strip is often jam packed. Just not quite as much as in the past.
Online casinos taking revenue out of Vegas casinos
We now live in an era where gambling online is so convenient…and so much fun. Let's be honest. It's much more convenient to just log onto an online sportsbook than to take a drive to a casino. You're always a click away from placing a bet. All you need is a computer and Internet access to gamble online.
In the past, Nevada was the only state to legally gamble on sports. People from California, Arizona and other nearby states would routinely make the drive to Las Vegas to bet on ball games. Now they don't have to drive over to Sin City. Sports betting can be done online. The convenience factor of gambling online takes away from Las Vegas gambling revenue.
There are many online casino options, for example here is Red Flush Progressive Jackpots . Progressive jackpot games and casinos online seem to attract new players and seasoned gaming veterans alike. Red Flush online casino and other online casinos dont have the overhead that land based brick and mortar establishments have so they can give away more to the customer.
New US casinos eating at Las Vegas gambling profits
It's not just the online casinos leading to a decline in Las Vegas gambling profits. It seems like everyday, a new casino is popping up somewhere around the country. Even in a semi-small state like Iowa there are tons of casinos. Sure, you can't bet on sports anywhere but Nevada currently, but you can play other casino games in most other states.
Las Vegas has the fanciest casino hotels. But that doesn't mean there aren't some amazing casinos in many other states now. Atlantic City, for example, has a few lavish casino hotels. Ditto for Southern California, which is in direct competition with Las Vegas for gamblers. Also the competition from online casinos such as Red Flush online casino ,  is making life a little more competitive for the Las Vegas casino.
It's either gambling or traveling
When planning a trip to Las Vegas, one must consider the cost of a flight, hotel, alcohol, entertainment and also set aside money for gambling. With the economy at a standstill right now, many are choosing one or the other. Either they travel to a nearby casino to gamble or they travel to Las Vegas and party instead of gambling. The mix of new casinos around the country, online casinos becoming increasingly popular and a downturn in the economy has led to a decrease in Las Vegas gambling revenue. But don't worry. If you're headed to Sin City on vacation, the place is still a madhouse, packed with endless entertainment opportunities.
As you can see from this graph Las Vegas % of revenue has shifted from gaming to non gaming over the last 15 years.  (click image for full size)