Villanova vs Texas Tech Free Pick
March 24, 2018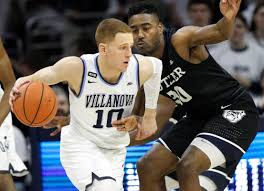 Sunday at 2:20 pm EST the Elite Eight games continue. The early game has #1 seed Villanova doing battle with #3 seed Texas Tech. The spread has Villanova favored by 6.5 points and the total is 144.5
Villanova has really turned it on in the tournament and has earned three wins by an average of 23 PPG. They have the nation's top scoring offense with 87 PPG. Their strength is their backcourt, Jalen Brunson (19.3 ppg) and Mikal Bridges (18 ppg). The defense allows 70 PPG.
Texas Tech has surpassed most expectations. The 27-9 team has succeeded by playing great defense. They are allowing only 64.9 PPG this tournament.
If these two teams play like they should then it should be a tighter game than the 6.5 point spread. The question is will Villanova's offense be too much for the Texas Tech defense? Villanova is a team that can really explode through the door once they past the bouncer, so to speak. But at the same time, if Nova gets out of rhythm and is challenged early they may have a hard time scoring a lot of points.
The two teams have no history of playing one another so there is little to analyze in that respect. But we can look at common opponents. Recently Texas Tech lost to West Virginia twice in the last month. Once they lost by three points the other they lost by ten points. Now take into account that Villanova just dropped 90 on West Virginia and beat them by 12 points. By this logic Villanova should win against Texas Tech easily.
However, our computer model says that the spread should be more like 3.5 points. So, my free pick is Texas Tech +6.5. I also am leaning on the under and am thinking for Texas Tech to cover, then Villanova will have some trouble running their offense.