Virginia Tech vs NC State Free Pick
February 7, 2018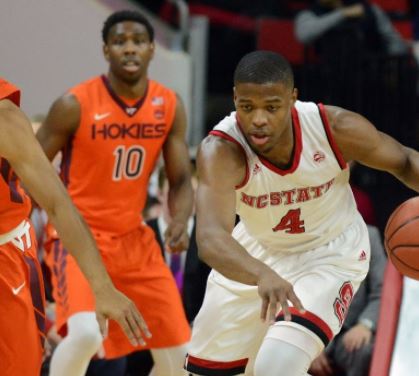 9:00 pm EST – The Wolfpack of NC State are in Blacksburg, Virginia to take on the Hokies of Virginia Tech. Both basketball teams have had a good year this year, especially considering they play in the vaunted ACC conference. The current point spread has VT favored by 6 points and the Over Under is 162.
Both teams are 16-7 straight up. VT is 11-8 ATS and NC State is just 9-10 ATS. VT scores 85 points per game and allows just over 73 PPG for a differential of 12 points. NC State scores 80 and allows 72 PPG for an average of 8 point win per game.
These two teams just played on January 4th of this year and NC State smacked Virginia Tech around winning 104-78. Head to head the last ten games NC State has the slight advantage winning 6 of the 10 games and the spread is dead even at 5-5 ATS. NC State is on a three game win streaking having just defeated UNC, Notre Dame and Pitt. The Hokies have just come off a loss to Miami – who NC State also lost to just a few weeks ago.
By looking at all the numbers it is easy to see the parody between these teams. They are both good teams. But in the ACC they are second tier teams behind the likes of Duke, Clemson, Virginia and Miami. The teams are very balanced on offense. NC State gets more participation from their bench than does VT which has all five starters averaging double figures in scoring.
Betting action is about even on this game. 53% of the bets are on NC State and 47% are on VT. Click here to see reviews of our top rated sportsbooks.
So What Will Give?
We think the home court here is paramount and Va Tech will play inspired basketball. Head Coach Buzz Williams said after their loss to Miami: "I didn't think collectively we played hard enough. We don't have a margin to overcome lack of toughness, lack of playing hard. That's not what you want to talk about in February, particularly when it's a sold-out game." – judging by this I think you will see a scrappier Hokie team come out and play tonight.
I like Va Tech minus the six points and covering the sportsbook spread. They will probably win by about nine points. I also look for both teams to score under 80 points because of the emphasis put on defense and playing harder. So UNDER 162 points seems like a smart play to me as well.
Virginia Tech gets revenge for last month's defeat and makes the season series even at 1-1. The rubber game may be decided in the ACC Tournament.