Watson Tops Heisman Trophy Futures, McCaffrey Close Behind
May 23, 2016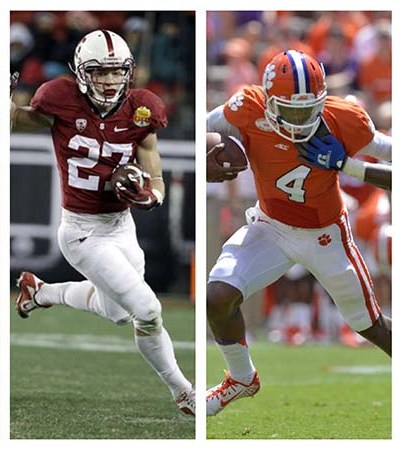 The 2016 College Football regular season will start in just over three months as teams prepare for overall play, conference play and the College Football Playoff.
Bettors can still place wagers on a number of futures in college football even though the opening kickoff is not until early September.
One futures list that interests many football bettors is the Heisman Trophy the most prestigious award in college football for an individual player to win.
Odds makers on line opened the line for the Heisman Trophy back in the early part of March and to almost no one's surprise, a quarterback was given the nod as the favorite to win.
At that time and now the top betting choice to win the award is Clemson quarterback Deshaun Watson, who is a dual threat from the signal calling position for the Tigers. He currently is 5 to 1 to win. Last season, Watson finished third in the Heisman voting.
Derrick Henry a running back last season with Alabama was the recipient of the Heisman Trophy after edging out Christian McCaffrey the freshman running back from Stanford.
The all-purpose back for the Cardinal returns for his sophomore season and is just behind Watson on the odds board at 6 to 1.
Henry became the first running back since 2009 to win the Heisman and only the second in the past 10 seasons. There has not been consecutive years in which a running back has won the award since 1998 and 1999 when the award was won by Ricky Williams followed by Ron Dayne.
Quarterbacks have won the Heisman 13 of the last 16 seasons and a pair of signal callers during the offseason have received a great deal of attention from odds makers and bettors alike.
DeShone Kizer the starting quarter for Notre Dame has seen his odds to win go from 30 to 1 down to 20 to 1. At the same time, Dakota Prukop the Oregon Ducks signal caller has seen his odds cut from 40 to 1 down to 30 to 1.
The two are not yet household names under center, but are getting solid attention during the offseason.