Week 6 NFL Betting Results
October 17, 2016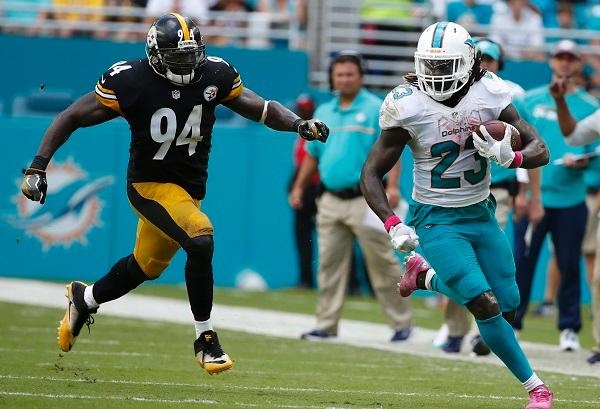 Week 6 of the NFL regular season is in the books with the exception of Monday Night Football. Here is a quick review of the week in betting.
Favorites on the weekend were 8-6 straight up and 4-8-2 against the spread. The home teams were 11-3 SU and 7-5-1 ATS. The Over-Under finished at 9-5.
Biggest Dogs of the Week
The biggest underdogs to win outright were Miami +7.5 over Pittsburgh 30-15, Dallas +5 over Green Bay 30-16, San Diego +3 over Denver 21-13 and Washington +3 over Philadelphia 27-20.
Big Chalk
The biggest favorites that covered were Buffalo -7.5 over San Francisco 45-16, New York -7.5 over Cincinnati 35-17 and N.Y. Giants -3.5 over Baltimore 27-23.
Buffalo's rout of 45-16 over San Francisco marked the Bills fourth consecutive win and cover. The OVER is 4-1 during Buffalo's past 5 games.
New Orleans beat Carolina 41-38. The Panthers are now just 1-5 SU and ATS.
The OVER has been in the majority five of six weeks this season, regardless of the outcome of tonight's Jet-Cardinals game. In six AFC games the over/under was split at 3-3. In five games between NFC teams, the OVER cashed in 4 of 5. In inter-conference games, the OVER was 2-1 with just Monday's night game pending.
Through Week 6 of the NFL regular season, the OVER is in the majority 51-40.
Injuries to Consider for Week 7
Dwayne Allen the Colts starting tight end left Sunday's game with an injured ankle during the first quarter and did not return.
Green Bay wide receiver Davante Adams did not return after being hit in the head during the second half against Dallas.
Terrell Suggs a Ravens linebacker tore his biceps tendon during the final quarter against the Giants.
Steelers signal caller Ben Roethlisberger tore his meniscus. He will be operated on Monday and with the Steelers having a bye week following next Sunday's game, Big Ben might just miss one game.