What Team Colors Will Adrian Peterson Where this Fall?
March 1, 2017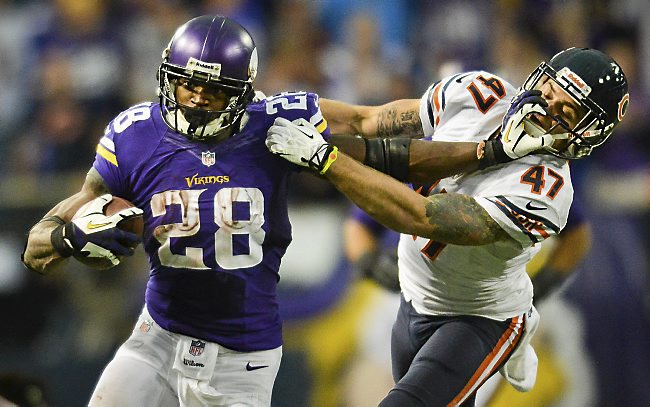 The NFL season is over and the league's draft is still weeks away, but that does not mean the most popular sport for online sports bettors does not take the spotlight when important news filters out to the public.
With news leaking that the Minnesota Vikings are not going to pick up the team option in 2017 for running back Adrian Peterson, a sweepstakes for the veteran rusher, who is coming off knee surgery, has officially started.
On online sportsbooks now have lines as to which team in the NFL will sign the Vikings legend for the upcoming season. Tampa Bay, who has Doug Martin, has emerged as the favorite with 3 to 1 odds of signing Peterson.
The Buccaneers have Martin and backup Charles Sims, which would appear to be a solid running back corps, but two rushers for the team have missed a combined 30 games during the last three seasons in Tampa Bay and Peterson could be a big insurance policy for the team.
Minnesota is 5 to 1 to re-sign the veteran running back who has won the NFL rushing title three times. However, if they would not pay the option of $18 million to keep the veteran, then if the sweepstakes goes to high, count the Vikings out.
Following the Vikings as the next most likely teams to sign Peterson are the New York Giants and Kansas City Chiefs also at 5 to 1, the Charlotte Panthers at 7 to 1 and the New England Patriots at 8 to 1.
Signing with the Patriots would make sense for Peterson. New England is a team that gambles more often than most any other NFL team especially when it comes to risky choices. The Patriots signed Randy Moss the controversial wide out in 2007 and he played very well under coach Bill Belichick for three seasons.
If New England were to offer a price for Peterson that is of interest to him, He could easily be wearing a New England uniform this fall.
Even though the Oakland Raiders are 12 to 1 to sign Peterson they might be Peterson's best choice. The Raiders have one of the NFL's best offensive lines and there is far more upside for the Raiders taking a risk on the three-time NFL rushing champion.