Where Will Jimmy Garoppolo Play Next Season?
February 14, 2017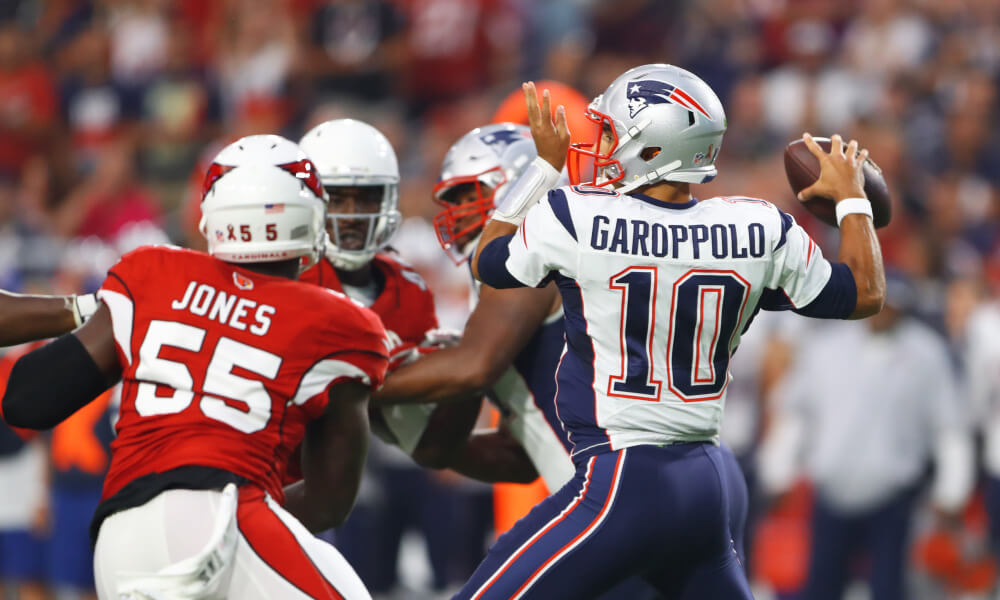 The New England Patriots won Super Bowl LI just over a week ago. Now the offseason begins and Tom Brady the Patriots star quarterback begins to prepare for yet another season and one in which he will turn 40 years old.
Last season his backup, Jimmy Garoppolo filled in for Brady during Brady's 4-game suspension to open the season. The Brady-backup played well and rumors are beginning to swirl about whether New England will trade their backup signal caller and what teams might be potential suitors.
A passing first offense has taken hold in the NFL and a franchise quarterback is one of the most important factors for the success of any NFL team today. A number of teams could be looking to trade for the second round draft pick from 2014.
The team to emerge at the top of the list as a co-favorite is the Cleveland Browns at 2 to 1. The Browns are in desperate need of a quarterback. The Browns have a wealth of draft picks that could surround Garoppolo with excellent talent.
The same odds are held by the Chicago Bears. Chicago is not happy with Jay Cutler and it appears the Bears coaches are ready to move on. Garoppolo would fit in well with the Bears.
Trailing the Bears and Browns in the possible Garoppolo sweepstakes is San Francisco at 3 to 1, New Orleans at 16 to 1, Houston and the New York Jets at 25 to 1 and Denver at 33 to 1.
Garoppolo could also remain with the Pats and the team could use him as an insurance policy if Brady were to be injured during the season.
There is also third string quarterback Jacoby Brissett to consider. He remains in the fold.
The option of keeping Garoppolo is available at 5 to 1 and might have the most value on the online sportsbook prop board that bettors can wager on.