Why Super Bowl LI Could Cash OVER
February 4, 2017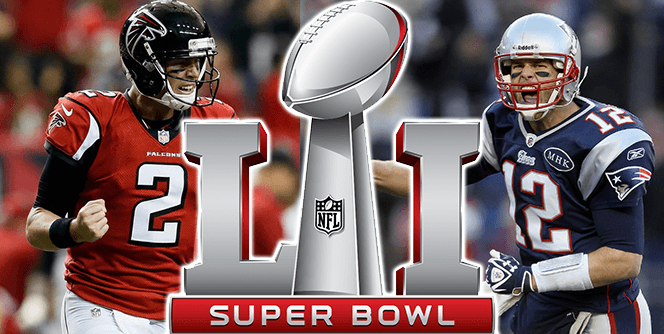 The New England Patriots will play the Atlanta Falcons in Super Bowl LI and the two teams could produce one of the highest scoring Super Bowls ever.
Betting trends show the public is favoring New England (-3) in the matchup and is leaning toward the OVER.
There is little surprise that bettors like the high side knowing the OVER in the playoffs this season is 7-3 with the combined per game scoring average in 10 games at 48.9 points.
The total opened almost two weeks ago at 57.5 but jumped to 59 before settling between 58.5 and 59 as of early Saturday morning.
Here are a few reasons the OVER looks strong in Super Bowl LI
Atlanta has averaged 34.4 points a game, which is No. 1 in the NFL, while New England is No. 3 with an average of 28.4 points per game.
Atlanta has had a better OVER run this season than any other NFL team cashing OVER in 15 of 18 games played.
Much of Atlanta's success is due to big plays and the Falcons are No. 3 in the NFL with 93 rushes of 10 or more yards and passing plays of 20 or more yards.
In its four games versus opponents from the AFC, Atlanta averaged over 29 points per game. It lowest point total was 23 in those four games, but that was against Denver one of the AFC's best defenses.
With Tom Brady quarterbacking, New England had a scoring average of 30.7 points per game. Over the Patriots past three games, the team is averaging 35 points per game.
In six playoff games Matt Ryan has been under center for Atlanta, including this season, the OVER has cashed in 5 of the 6.
Often times rest is overlooked. However, Atlanta has played well with an extra week off. Since Ryan became the Atlanta quarterback back in 2008, the team is 8-2 when playing on an extra week's rest with the OVER cashing in 6 of those 10 games.
The offense for New England has also played well following a bye during the playoffs. The Patriots have averaged 34.7 point per game in their past six games during the playoffs with a week's rest including scoring 34 against Houston earlier in this postseason.
The Patriots defense is the best in the NFL against the score, but Atlanta's is No. 23 allowing 24.8 points per game.