Winning Ticket Paid by Sportsbook 43 Years After the Fact
April 9, 2017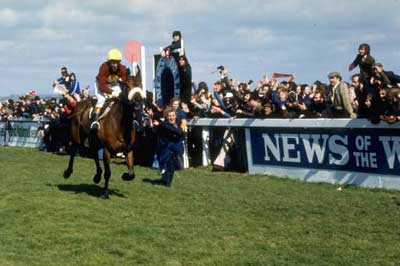 Sunday April 9 is a big day for sports bettors who love golf, but other than the final round of the Masters teeing off on Sunday, there are not any other huge sporting events for bettors sink their teeth into such as NFL games, college football or March Madness.
Therefore, it is a good time for a feel good story that restores the faith sports bettors must have in their sportsbooks.
This week a ticket from 1974 bet on Red Rum the legendary racehorse in Britain to win the Grand National that year was paid out 43 years after the race had been held.
The Grand National has also been called the ultimate test of courage for a horse. The race is more than 4 miles long with 30 fences that must be jumped. Red Rum was victorious on three occasions.
Seventy-four year old Bob Holmes, who is retired, found the 1974 winning betting slip amongst his late father-in-law's belongings and contacted William Hill the bookmaker on the betting slip.
William Hill confirmed the slip was never cashed and not only was happy to honor the bet but added in an adjustment for inflation for a total of £130 ($160).
Knowing this was a great opportunity for some public relations, the bookmaker offered Holmes another bet of £130 on the Grand National this Sunday plus £130 that he could donate to any charity of his choosing.
Holmes said that he does not know why his father-in-law never cashed the winning betting slip, but thinks he may have misplaced it and then forgot about it since he rarely bet.
The payout is considered to be the latest ever after the fact payout,
A spokesperson for William Hill said he has worked at the bookmaker 45 years and prior to his betting slip payout the record had been seven years. That betting slip was cashed by a woman whose husband passed away and it took her that length of time to go through all is clothes and that is when she located his betting slip.
The spokesperson added that if a betting slip is held by anyone and is confirmed to be valid, William Hill will honor it.