Yet Another New Kentucky Derby Favorite
April 12, 2018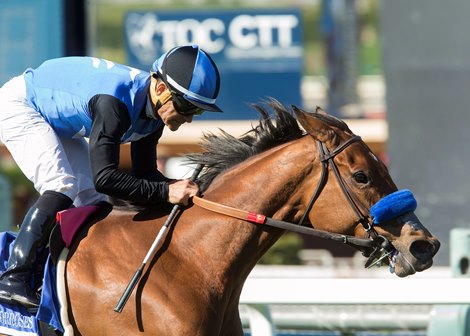 As the 144th Kentucky Derby approaches, the oddsmakers and the betting public are wrestling with which horse should be the odds on favorite. It seems every week there is a new favorite, and this week is no different. After posting last week that Mendelssohn was the newest favorite, we turn the page to this week where a horse named Justify has become the new overall favorite.
The horse has attracted the attention of bettors after winning Saturday's Grade 1 Santa Anita Derby. Justify is a Bob-Baffert trained colt. He won this weekend's race over former favorite Bolt d'Oro by three lengths (approx. 24 feet).
You can see the video below of the Santa Anita Derby. Below the video we have the latest odds posted for the Kentucky Derby. Odds are subject to change over time.
Another horse, Good Magic, won the G2 Blue Grass Stakes and a result got his odds shortened from +1600 to just +645. The Kentucky Derby is in 23 days from today. Make sure to register now to be ready for the biggest horse race of the year. Here are the newly refreshed odds:
Justify +365
Bolt D"Oro +585
Mendelssohn +645
Good Magic +645
Audible +825
Magnum Moon +1185
Vino Rosso +1215
Solomini +1615
Sporting Chance +2550
Gronkowski +2550
Enticed +2550
My Boy Jack +2550
Free Drop Billy +3050
Quip +3050
Flameaway +3550
Noble INdy +3550
Instilled Regard +4550
Bravazo +5245
Promises Fulfilled +5250
Runaway Ghost +5250
Firenze Fire +6050
Lone Sailor +6550