Your Betting Options For The NFL Playoffs
January 14, 2014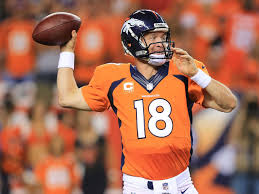 After a long NFL season, we are down to the final four as the conference championship round is set. We'll see four teams that each won at least 12 games this season square off and both Championship Games will reunite some familiar faces.
New England Patriots at Denver Broncos – Sunday, 3:00 PM ET
The Patriots gave Andrew Luck and Indianapolis a lesson in playoff football with a 43-22 beating to set up another meeting with the Broncos, who held off San Diego. Tom Brady threw for three touchdowns in leading the Pats on a 24-point comeback to stun Peyton Manning and company 34-31 in overtime in November, but that was in New England. Still, expect to hear a lot about Manning's 4-10 career record (including 1-2 in the playoffs) against Brady, who let his rushing attack shine in the whipping of the Colts.
The early line shows the Broncos are favored by 5.5 points, but keep an eye out throughout the week. Update: Line has moved down to 4.5 by the time this article published. Bet it now at A Rated Sportsbook.
San Francisco 49ers at Seattle Seahawks – Sunday, 6:30 PM ET
The 49ers showed Cam Newton and Carolina how it is done in the postseason with a 23-10 romp on the road, and Colin Kaepernick definitely outplayed the former Heisman winner and #1 overall draft pick. Marshawn Lynch went "Beast Mode" on New Orleans again and ran for 140 yards and two touchdowns in a 23-15 win over the Saints that they were in complete control of for most of the day. This will be the third meeting of the season between these NFC West rivals as an injury-bitten San Francisco team was beat up in Seattle in the second week of the campaign, but the 49ers protected their home field later on. However, this game will be held in Seattle, where home-field advantage for the Seahawks has been a running theme all season.
The Seahawks are favored by 3.5, but as always, watch out for line moves.