NFC Championship Preview and Pick 2014
January 16, 2014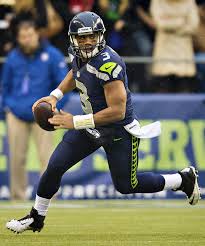 Brought to you By CarbonSports
What we already know about the NFC Championship game is relatively straight forward, and it all boils down to how two of the youngest and most electrifying quarterbacks in the NFL respond against the best defenses in the league. San Francisco allowed just 17.0 points against, and Seattle led the league with only 14.4 points allowed per game. For all intents and purposes the Niners and Seahawks were two of the top three defenses throughout the 2013 season. But which one is the more reliable commodity?
Seattle's defense was uncanny last weekend, and held off Drew Brees and Marques Colston even though the Saints attempted 43 passing attempts in the game. Brees achieved a 55.8 percent completion rate against Seattle's top ranked pass defense, so it's hard to imagine Kaepernick having an unreal day given his spotty accuracy and overall lack of experience. The caveat is that Brees still managed 309 yards, was only sacked once and didn't give up an interception. And the weather was completely against him in the first half though it cleared up by the second. Weather won't be a huge factor next weekend according to early reports.
San Francisco's defense may not be statistically better but in my opinion they are the best overall defense in the league. They limited Carolina to just 325.0 total yards, picked off Cam Newton twice and literally broke down the Panthers by the end of the first quarter. Their physicality is their trademark, and after seeing what they did on the road against Carolina, and the week before against Aaron Rodgers, it's impossible to ignore their impact on a matchup.
San Francisco 49ers (14-4) vs. Seattle Seahawks (14-3)
Sunday, January 19th — CenturyLink Field — 6:30pm EST
NFC Championship Betting Line: Seattle -3.5 (39.5)
Sizing up the defense helps put the rest of the factors in this matchup in to perspective, and obviously I'm talking about the quarterbacks. As I stated earlier, Kaepernick isn't a great passer, but he has continued to shown flashes of brilliance throughout the playoffs. He connected with Vernon Davis on what seemed like an impossible pass in the third quarter against Carolina that put them in a position to score. And he's using his legs more often with massive results.
Kaepernick already has 113 rushing yards and a touchdown in these past two playoff games and it wouldn't surprise me to see the former Nevada starter running wild on Sunday. I know that the Seattle defense is thought to be impervious, but Kaepernick and Frank Gore run behind the best offensive line in the whole league. And the Niners are 10-1 SU when Kaepernick scores a rushing touchdown. That one loss was last year's Super Bowl.
Truth be told, I'm not completely sold on Russell Wilson. He's a nightmare to defend against because he's so squirrely in the pocket, but half of it is because he's always trying to see passing lanes. He does an excellent job of finding windows, but the Niners are viscious up front. It's a good time to mention that Wilson was sacked 44 times this year, which was the third most in the league.
As is usually the case, an NFL betting pick usually boils down to the performance of a quarterback. I know what Kaepernick is capable of doing in the playoffs because we've seen him five times in just two years. Wilson can still turn a believer in to me in this game, but I'm not willing to bank on him just yet. He has fewer weapons and his offensive line has not faced a behemoth front seven like the one San Francisco boasts.
The biggest reason to bet on the Niners as road dogs is simple: they've been to this game before. They understand the scope and scale of a championship game, and won't be overwhelmed by the sheer magnitude of the moment. In the playoffs, the team that can maintain discipline usually wins out. We've seen it time and again and even last weekend in the Carolina-San Francisco matchup. Seattle will be ramped to play this game, but the Niners can break them just like they pushed the Panthers off the cliff.
As I've said a few times in the playoffs before, you can't go wrong with either team. Seattle is a great take with a 37-18-1 ATS record at home. But do you know else has an identical record in their last 56 overall games no matter where the location is? You guessed it – the San Francisco 49ers.
You also can't deny that San Francisco is just a better, overall roster. The Gore-Lynch matchup is an even affair, and even if you favor Lynch in that debate San Francisco wins on a per-position basis. Kaepernick over Wilson. Justin Smith's defensive teammates over Richard Sherman's. Crabtree, Boldin and Davis over Golden Tate and Percy Harvin.
And finally, we like the OVER. This is going to be fun.