Top 10 Fantasy Football Quarterbacks for 2014
July 23, 2014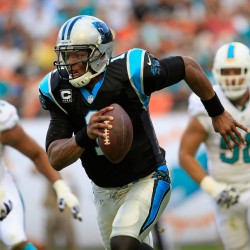 Getting ready for the upcoming NFL season includes planning your picks for your Fantasy Football draft. For this post, I'm going to focus on the quarterbacks. There are many talented quarterbacks in the league, capable of putting up big numbers for Fantasy Football players. Here is my list of 10 best Fantasy QB's:
1.Peyton Manning (Denver Broncos)
There isn't much debate as to which quarterback has the most value to a Fantasy Football team. Manning set virtually every single-season passing record last year. He's getting old, so there's always a concern for injury. But if he stays healthy, it's hard to imagine any other quarterback putting up bigger numbers.
2.Aaron Rodgers (Green Bay Packers)
Aaron Rodgers was on his way to a big year before getting injured. Now that he's healthy, the Packers signal-caller is poised to throw for 4,000+ yards again. Rodgers has some help in the backfield now that Eddie Lacy looks to be on his way to greatness.
3.Drew Brees (New Orleans Saints)
Drew Brees is always one of the top Fantasy Football quarterbacks and he doesn't appear to be letting up. Brees has one of the best targets to throw to – Jimmy Graham. The Saints don't have a high-powered rushing attack, which means Brees will, again, be asked to throw 35+ times every game. That's good news for Fantasy players.
4.Cam Newton (Carolina Panthers)
Cam Newton had a nice comeback season last year. Now is his time to prove he is an elite quarterback. Newton won't ever get you 4,000+ yards, but he will give you a nice mix of rushing yards, passing yards, passing touchdowns and rushing touchdowns.
5.Nick Foles (Philadelphia Eagles)
Chip Kelly did a nice job with Nick Foles last season. Foles might scare some Fantasy owners away because it's possible last season was a fluke. But I think he could be an absolute steal in later rounds if you still haven't drafted a quarterback. Foles will get plenty of pass attempts and opportunities to throw touchdown passes.
6.Andrew Luck (Indianapolis Colts)
Andrew Luck is a very good young quarterback. He's put up fairly big numbers his first 2 seasons, but the question is will he improve on those stats? Luck has potential to be great, so it's possible you could get a steal. But you might also get what you expected out of him, which is okay too.
7.Colin Kaepernick (San Francisco 49ers)
Colin Kaepernick was outstanding in 2012, leading the 49ers to the Super Bowl. He didn't quite live up to the hype in 2013, but this is a QB with tons of potential. Kaepernick could end up being the steal of the draft. He's not my first choice, but he just might have a big year.
8.Tom Brady (New England Patriots)
The New England Patriots offense no longer revolves around big plays from Tom Brady. They ask him to be more of a game manager. That's not good news for Fantasy owners. With that said, Tom Brady is still Tom Brady. He's still one of the best quarterbacks in the league and not a bad Fantasy selection.
9.Matt Ryan (Atlanta Falcons)
Tony Gonzalez has retired and that will hurt Matt Ryan. The Falcons were a major disappointment last season, but not because Ryan played poorly. He's still a very talented quarterback capable of throwing for 300 yards on any given Sunday.
10.Phillip Rivers (San Diego Chargers)
Many Fantasy Football owners avoided drafting Phillip Rivers a season ago. Some thought his good years were behind him. They were wrong. Rivers still puts up big numbers despite playing for a San Diego team that isn't as talented as it was when he was younger.