2014 National Football League Trends Against the Spread
November 15, 2014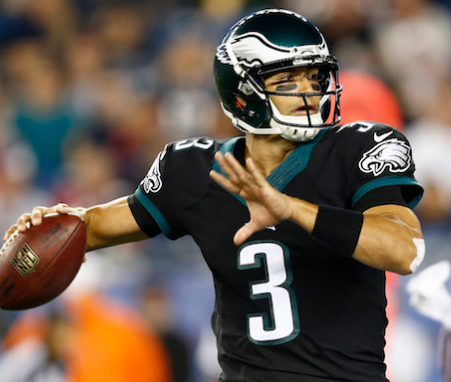 What can we take away from trends from the first half of the NFL season? Not much because the sample size is so small. However, I thought you might be interested in knowing how the teams are performing against the spread through Week 10. Some of the teams performing well and poorly ATS just might surprise you. There's always a simple explanation as to why certain teams do well against the spread, and why some teams don't.
The best teams in the NFL right now are the Denver Broncos, Dallas Cowboys, Seattle Seahawks, Green Bay Packers, New England Patriots, Arizona Cardinals, Philadelphia Eagles, and Detroit Lions. Yes, that's right – the Detroit Lions are a legitimate Super Bowl contender. Given their history, they will probably choke in the playoffs, however!
Of course, being a top team doesn't necessarily translate to success against the spread, which is what we care about most. How are those 7 teams performing ATS thus far?
Arizona (7-2)
Philadelphia (6-3)
Green Bay (5-3-1)
Dallas (6-4)
Detroit (5-4)
New England (5-4)
Seattle (4-5)
So if you've been betting heavy on those 7 teams this year, a few of them have made you money and the rest haven't done much good for you.
Why is Seattle disappointing against the spread?
It's pretty easy to figure out why the Seahawks are covering at a rate below .500. They are the defending Super Bowl champs and were the favorites heading into the season. Therefore, the general public has jumped all over them. Unfortunately, as we've seen many times from defending champs, it's not so easy to defend a championship.
Seattle still has a chance to win the Super Bowl this year. But they're learning how difficult it is to repeat. They are getting a lot of respect from Vegas because the general public is so confident in their abilities. You'll likely notice the Seahawks don't get as much respect as the season progresses, so look for their W-L ATS to improve.
Arizona shouldn't have been a surprise contender
Arizona won 11 games last year and was merely a field goal away from the playoffs. This is an extremely talented team, so it shouldn't come as a surprise they are a contender. However, their chances of winning the Super Bowl are slim now that Carson Palmer is out for the season with a torn ACL. It's a shame because the Super Bowl is played in the home of the Arizona Cardinals. Replacing Palmer isn't going to be easy.
Teams that are stinking up the joint ATS
The teams performing the worst ATS also happen to be some of the worst teams in the NFL. Here are the 3 worst ATS records:
Jacksonville Jaguars (2-7-1)
New York Jets (2-7-1)
Tennessee Titans (2-6-1)
These teams can't do anything well except win people money betting against them. Some other teams that aren't doing so hot ATS include; Washington, Tampa Bay, St. Louis, and New York Giants (all 3-6). These are some mediocre football teams. I hope you have refrained from betting big on them to cover!
Note: Deposit at Wagerweb.ag now and get 20% cash bonus