How to Handicap Bowl Games the Right Way
December 2, 2014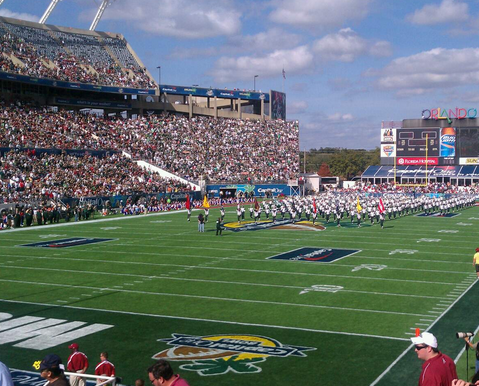 We are down to the last weekend of the college football regular season. That means the bowl season will soon be upon us. If not for gambling, most bowl games wouldn't be exciting to watch. Thanks to our favorite sportsbooks, we can get some action on these otherwise meaningless games and turn them into big games.
Bowl games are fun to bet on but they are hard to handicap. Why? Because you have to factor in effort more in bowl games than normal games. What I mean by that is, quite frankly, some teams simply don't give a rip about their bowl game for various reasons. For example, a powerhouse program that has a disappointing season and ends up in some lousy dot com bowl game may not put forth much effort into winning. I've been quite successful betting on bowl games over the years. So to prepare you for the upcoming bowl season, here are some tips to follow:
Big bowl games should be handicapped similar to regular games
The only bowl games that should be handicapped like regular games are the big bowl games, including the College Football Playoff games and other big bowls including the Citrus Bowl, Orange Bowl, Cotton Bowl, Fiesta Bowl, and Peach Bowl. The reason these games are standard handicapping games is because you have to assume the teams involved will put forth the same kind of effort they would in a regular game. These are program-building type of games.
Determine how important the game is to each team
Bowl games aren't always about which team is best. They're often about which team cares more, at least when it comes to the minor bowl games. Some teams simply don't care about winning their bowl game. They care more about getting extra practice time and having an enjoyable vacation.
When handicapping a game, do your best to project how much effort each team will put into the game. Let's say Florida State loses on Saturday and ends up in a non-playoff bowl game. Do you really think they're going to show up for that game? Probably not. They're coming off a championship season and had expectations to repeat. Anything less would be a disappointment for the Seminoles. If they don't end up in the College Football Playoffs, they're the type of team betting against would be a smart play.
The same can be said about nearly every powerhouse program that ends up in a lesser bowl game. Take USC as an example. They were expected to compete for a national title in 2012. That didn't happen. They ended up in the Sun Bowl and simply didn't even show up and got rolled.
On the other hand, mid-major programs almost always take bowl games seriously. These are important games for mid-majors. They're especially important when a mid-major team faces a major college team. These are the type of games you should bet big on the mid-major when they are the underdog. The major college team might win the game straight up, but they rarely cover the spread.
The general public is almost always going to bet big on the bigger name teams up against the lesser programs. That's a perfect opportunity to bet against the public. Good luck with your bowl game bets this holiday season!