Kentucky at the Top of NCAA National Championship Futures Board
February 11, 2015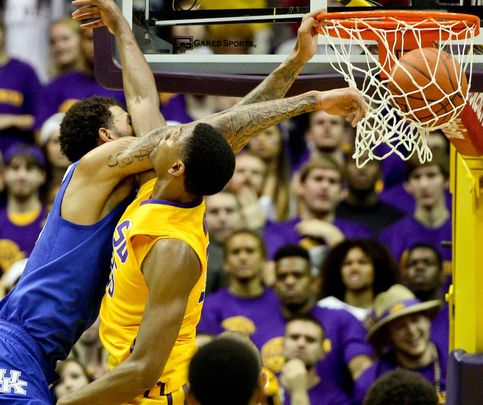 The NCAA football season has been in the books since early January. The Super Bowl was played over a week ago to determine the NFL Champions.
While the NBA still has close to half of its regular season to be played, the NCAA basketball regular season is winding its way to an end.
College basketball teams have only three weeks left to play before they begin their respective conference end of the season tournaments.
The Kentucky Wildcats remain at the top of 2015 NCAA Championship futures board and every college basketball poll in the country. On Tuesday night, the Wildcats moved to 24-0 on the season with a two-point victory over SEC rival the LSU Tigers.
The most recent futures board release this week has the Wildcats as 11 to 10 favorites to win the national title. Kentucky is the nation's only remaining undefeated Division I team in men's college basketball. The Wildcats are 11-0 in SEC play and have dominated since the first game.
Kentucky has experienced a few close games, such as Tuesday's win over LSU, but the depth on the roster means if one set of five is not playing well, coach John Calipari can insert another group of five and not lower the talent level.
Most basketball analysts believe the Wildcats have three players who could be lottery picks in the NBA draft and a few others that will likely play for an NBA team next year as well.
Virginia and Duke have the second best odds to win the national title. Virginia has lost just once and that was to Duke. The Blue Devils lost back-to-back games earlier in the season, but have won four straight against tough competition and looks to be a team that could stay with Kentucky in a big game with a national championship on the line.
The only other teams with odds of better than 20 to 1 are Gonzaga, Arizona and Wisconsin. Gonzaga has one loss, which was in overtime to Arizona. Arizona is 20-3 with the three losses by a combined 9 points. Wisconsin is 21-2, with losses to just Rutgers and Duke.
2015 NCAA National Championship Odds
Kentucky 11/10
Duke 8/1
Virginia 8/1
Gonzaga 9/1
Wisconsin 9/1
Arizona 12/1
Notre Dame 20/1
Kansas 22/1
Louisville 25/1
Utah 25/1