Updated 2015 College Basketball National Championship Futures
February 17, 2015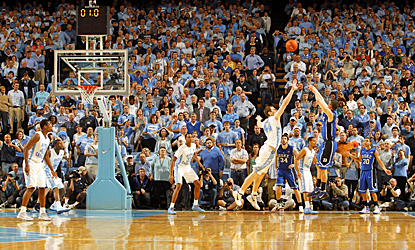 The NCAA Tournament is less than a month away. Teams are battling in conference play as they prepare for season ending conference tournament and the Big Dance – March Madness.
As they have the entire season, the Kentucky Wildcats have the shortest odds to win the college basketball national championship.
While some teams are moving up the futures board for the NCAA tournament, others like the North Carolina Tar Heels are headed south and quick.
North Carolina is moving in the wrong direction on the odds boards with a huge matchup on the road at Duke next on its schedule.
After losing three of its past four games overall, North Carolina has seen its odds to win the National Championship soar to 60 to 1.
The Tar Heels started the season as the fifth highest favorite to win the national title with 15 to 1 odds. The Tar Heels are going through a difficult stretch of their conference schedule, but all of their three most recent losses were by 10 points or more – at Louisville by 10 points, Virginia by 11 points and at Pittsburgh by 13 points.
Duke on the other hand has won five straight games defeating two teams ranked in the top 25 in the process including on the road at Virginia and home to Notre Dame.
The Blue Devils also have defeated the likes of Michigan State, Louisville and Wisconsin this season.
Duke is currently sitting with 8 to 1 odds to win the national championship behind just the yearlong favorite Kentucky Wildcats and the second place Wisconsin Badgers.
Kentucky remains undefeated on the season at 25-0, while Wisconsin is 23-2.
2015 NCAA National Championship Futures
KENTUCKY WILDCATS 4 t 5
WISCONSIN BADGERS 7 to 1
DUKE BLUE DEVILS 8 to 1
ARIZONA WILDCATS 10 to 1
VIRGINIA CAVALIERS 12 to 1
GONZAGA BULLDOGS 12 to 1
KANSAS JAYHAWKS 30 to 1
VILLANOVA WILDCATS 30 to 1
LOUISVILLE TIGERS 35 to 1
IOWA ST CYCLONES 50 to 1