Four Teams That Will Surprise in the NCAA Tournament
March 1, 2015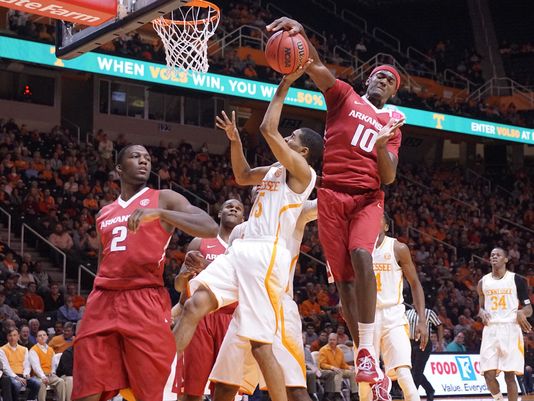 Just over a week is left in the college basketball regular season, which will be followed by the conference tournaments and March Madness, the NCAA Tournament.
There are teams assured of going to the NCAA Tournament like Kentucky, Duke and Arizona and there are others that are confident of being picked, but will not be assured of that until Selection Sunday when they hear their name called.
Here are four teams that could become spoilers during the NCAA tournament and knock off a higher seed or two.
Arkansas – the Razorbacks lost on Saturday to Kentucky, but then again, who has not lost to Kentucky this season. At this point, Arkansas is a solid No. 4 seed for the NCAA tournament and possibly higher. Bobby Portis leads the team in both scoring and rebounding. Arkansas has a potent offense that averages nearly 80 points a game, which is currently ninth in the country.
Utah – On Saturday night, the Utah Utes lost to the Arizona Wildcats in a Pac-12 showdown. The loss will likely cost the Utes the Pac-12 title, but they will easily make the NCAA tournament as either a No. 2 or 3 seed. Delon Wright leads an offense that has the sixth best field goal shooting percentage in the nation at 50%.
Maryland – the Terrapins will return to the Big Show after four years on the sideline. Last week, Maryland put the defensive clamps on Wisconsin and defeated the Badgers 59-53. Maryland is likely to be a No. 3 or 4 seed in the upcoming NCAA Tournament. Melo Trimble a freshman at point guard is the catalyst for the Terrapins offense and their leading scorer. This writer for one thinks Maryland will reach at least the Sweet Sixteen this season.
SMU – Last by certainly not least are the SMU Mustangs. Larry Brown the head coach for SMU will laugh last this season. Last year his team was snubbed on Selection Sunday, but will stroll into the tournament this season. Nic Moore the junior point guard is the leader on a team with a great deal of experience. SMU has won over 20 games this season and lost to strong opponents such as Arkansas and Gonzaga. The Mustangs should be a No. 5 or 6 seed later this month.