A Guide to Betting on the Sweet 16
March 25, 2015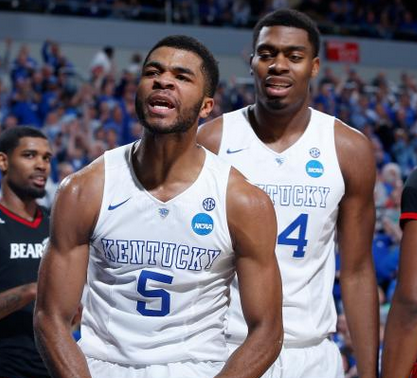 After an exciting weekend of college basketball we turn our attention to the Sweet 16. This is the round where talent and coaching generally trump all. In the first couple of rounds, major upsets can happen – just ask Iowa State and Baylor – but the round of 16 is where the real tournament begins. Does that mean you should bet heavily on the favorites? No. It means you should consider talent and match-ups more than emotions. Let's take a quick look at the match-ups in the Sweet 16 games so you can accurately handicap the games:
Wichita State vs. Notre Dame
This is an intriguing match-up. Notre Dame hasn't played well through the first two rounds but when they get hot, they are almost impossible to beat. Wichita State has decent athleticism so Notre Dame's quick guards shouldn't be an issue. This game will come down to how well Notre Dame shoots.
North Carolina vs. Wisconsin
North Carolina is playing its best basketball at the right time. But I'm not sure Roy Williams has an answer for Frank Kaminsky. Wisconsin defends the perimeter well, so it won't be easy for Marcus Paige to go off. If Carolina can turn this into a transition game, they'll have a shot.
West Virginia vs. Kentucky
I realize that upsets happen, but I'm not seeing it here. West Virginia plays physical just like Kentucky, but they just aren't as disciplined. Kentucky has too many weapons and is too fundamentally sound to lose to a team like West Virginia. Kentucky's depth is going to cause problems.
Xavier vs. Arizona
Xavier has played well thus far in the NCAA Tournament, but they haven't yet faced a team near the caliber of Arizona. This is an interesting match-up because Arizona coach Sean Miller left Xavier for his current position. Emotions will be riding high on both sides. Arizona simply has too much talent for Xavier to handle.
UCLA vs. Gonzaga
This just might be Mark Few's best team at Gonzaga. They proved on Sunday against Iowa that size wasn't a factor. For UCLA to win this game, Bryce Alford will need to hit a bunch of 3's. I think Gonzaga is going to work UCLA down low and they'll also hit some shots from the perimeter.
North Carolina State vs. Louisville
Louisville proved to the world against Northern Iowa they aren't dead. Louisville has an athletic backcourt that will cause some problems for NC State. I'm leaning towards Louisville here by a small margin mostly because I don't think NC State is talented enough to continue playing at such a high level. They are due for a letdown.
Utah vs. Duke
This is another exciting match-up because it will be interesting to see how well Utah's tough defense can handle Jahlil Okafor. That's going to be the key match-up in this game. It's impossible to stop him, but if they can frustrate him a bit, they can keep the game close and have a chance to win down the stretch.
Michigan State vs. Oklahoma
Offense versus defense. That's what this game will come down to. It's really amazing how well Tom Izzo coached teams perform in the NCAA Tournament even after a sub-par regular season. But the Spartans are playing their best ball at the right time. Buddy Hield and Travis Trice is the match-up I will be looking at.
If you haven't yet signed up for an online sportsbook, you still have plenty of time to get in on the action before the games start.