Exclusive BetPhoenix.ag Online Sportsbook Review
April 1, 2015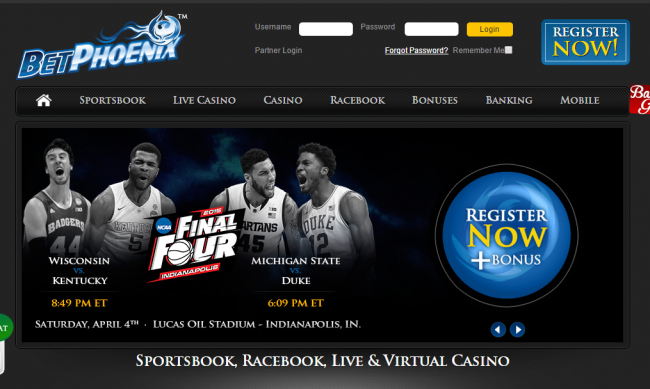 by contributing writer Jon S.
I like trying new things. I was looking for a few new online sportsbooks to try to a friend told me about BetPhoenix.ag, BetMania.ag, and SkyBook.ag. I was told they are good sportsbooks but I needed to try them out for myself to know for sure. After testing them out for a while, I wrote a few reviews so that our readers can get an idea of what to expect from these online sportsbooks. For this review, I am going to give you the scoop on BetPhoenix.ag and what I experienced.
Sign-Up Bonus Information
Let's be honest here. The biggest draw of any online sportsbook is the bonuses they offer. So if I'm not offered a good bonus, I'm gone. Fortunately, the bonus programs offered at BetPhoenix.ag didn't scare me away. They're actually quite impressive. I got a 100% bonus on my first deposit along with a $50 free straight bet to wager on NCAA Tournament games. I made a deposit with my credit card so I got an additional 10% on a free bet. Their website says you also get a 25% free play on a referral bonus based on what your friend deposits.
What Others Say About BetPhoenix.ag
I wanted to get a good idea for what other customers of BetPhoenix.ag  had to say about the site, so I did a bit of research. Like any business, there are going to be unhappy customers. If you've ever read a Yelp review on a restaurant, you know what I'm talking about. So I base everything on what the majority has to say. And it's quite obvious the majority of BetPhoenix.ag customers are extremely happy. They seem to get a lot of repeat business and referrals so that should tell you a lot about the respect they receive from the sports betting community.
Sporting Events on the Board
BetPhoenix.ag has a complete casino and racebook. They have live table games, slot machines, horse racing, etc. But in terms of sports betting, they also allow for wagering on virtually every international sport imaginable, including:
NFL
NASCAR
Boxing
Tennis
NHL
PGA Tour
NBA
MLB
Champions League
And more
BetPhoenix.ag Company Information
BetPhoenix was established way back in 2007. I tend to favor established online sportsbooks only because I know that if the site has been around for a long time, they must be doing something right. So I trust a site like BetPhoenix, knowing they are an established online sportsbook. The site is operated out of San Jose, Costa Rica, which is where many of the top online casino operators are located.
They have a pretty solid customer service. You can get a hold of them 24/7 and quite helpful. The deposit and withdrawal procedure is pretty standard. They accept all sorts of methods including Visa, MasterCard, bank transfer, etc. Withdrawals normally take 7-10 days to receive the money, which is perfectly acceptable in my opinion.
BetPhoenix.ag Review – Conclusion
I don't have any problem recommending BetPhoenix.ag  to casual and hardcore sports bettors alike. This is a very cool place to bet on sports. They have some great bonuses with free play money, quality software, relatively quick payouts, and a reliable customer service team. I'm not sure this is my favorite online sportsbook, but it's certainly right up there. If you're looking to try out a new online sportsbook, this is one you're going to love.