Futures: Cleveland atop the NBA, Kentucky Tops NCAA
April 8, 2015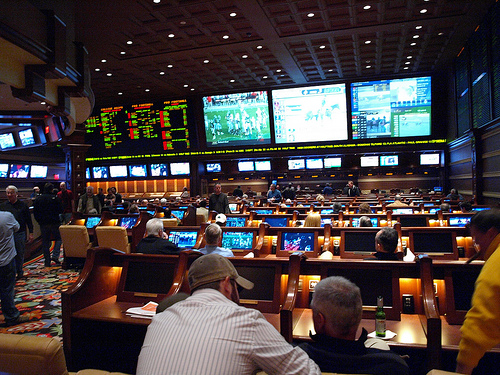 With the NBA regular season coming to an end, the Cleveland Cavaliers and Golden State Warriors are atop the futures board as favorites to win the NBA championship.
Golden State had its odds from last week shortened to 2 to 1 from 5 to 2. While Golden State has locked up the top seed out West, teams are battling for the second seed through the sixth seed. At the same time, the New Orleans Pelicans and Oklahoma City Thunder are fighting for the eighth and final spot in the West.
In the East, Brooklyn, Boston, Indiana, Miami and Charlotte are within 2.5 games of one another with all five battling for the No. 7 and No. 8 spots.
Currently Brooklyn is No. 7 a half game in front of No. 8 Boston, while Miami is a half game behind Boston and Indiana a half game behind Miami and one game behind Boston.
2014-2015 NBA CHAMPIONSHIP 
CLEVELAND CAVALIERS 7 to 4
GOLDEN STATE WARRIORS 2 to 1
SAN ANTONIO SPURS 5 to 1
ATLANTA HAWKS 12 to 1
LOS ANGELES CLIPPERS 14 to 1
HOUSTON ROCKETS 16 to 1
CHICAGO BULLS 20 to 1
MEMPHIS GRIZZLIES 20 to 1
PORTLAND BLAZERS 40 to 1
TORONTO RAPTORS 50 to 1
The Duke Blue Devils had not even enjoyed the national championship for 24 hours when bookmakers released futures for the 2016 NCAA National Champion. At the same time, new updated odds for the NBA Championship were also released, as teams battle for two or three remaining playoffs spots.
Even though Kentucky is expected to lose a number of top players to the upcoming NBA draft, The Wildcats are at the top of the lists as the favorite to win the national championship next season with odds of 8 to 1.
The chances for Duke to repeats next season as the NCAA national champions are 15 to 1.
2016 NCAA Tournament Odds
KENTUCKY 8 to 1
NORTH CAROLINA 9 to 1
VIRGINIA 10 to 1
MARYLAND 15 to 1
IOWA ST 15 to 1
DUKE 15 to 1
KANSAS 15 to 1
MICHIGAN ST 15 to 1
VILLANOVA 25 to 1
GONZAGA 25 to 1