Blackhawks vs Ducks: Odds Makers Call the Series a Pick 'em
May 17, 2015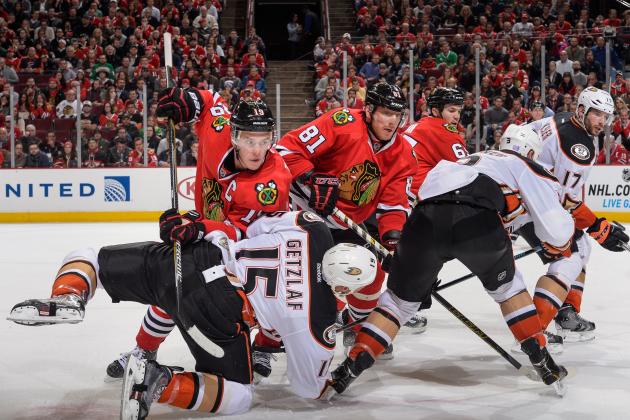 The Chicago Blackhawks have returned to the NHL Western Conference finals. This is the fourth time in the past six years the team has reached this point. The Blackhawks will face the Anaheim Ducks who have returned to the conference finals for the first time since 2007, the year they were the Stanley Cup champions.
The two clubs in the Western Conference begin their series on Sunday afternoon from the Honda Center. Odds makers are calling this series a pick 'em, with both of the teams sitting at -110 on the moneyline. In Game 1, odds makers have made the Ducks short favorites on their home ice, at -130, while the Blackhawks are sitting at +120. The over/under for goals is 5.
Patrick Kane was hurt in February for Chicago and the club missed his presence, but he has played remarkably during the postseason and is a big reason Chicago seems to reaching its peak at just the right time.
The Blackhawks are shooting better and that is evident in the totals for their games. In their 10 playoff games, the OVER is 7-2-1 for Chicago. They swept the Wild in four straight looking dominant throughout the series.
Anaheim dominated each of the first two series they played this postseason. The OVER in their 9 games is 6-3. The Ducks are 8-1 in the postseason with just a loss to Calgary who scored with just 20 second left in regulation and won the game in overtime.
Anaheim has been the conference's top team this season, while Chicago has been its perennial power in the postseason. It will be a battle of heavyweights that is nearly too hard to call.
Both Anaheim and Chicago have won their two previous series in convincing fashion. Chicago's road was tougher with the Predators then a red-hot Wild.
This is a series that the NHL loves to have, with both teams very popular, both equally strong and both playing at the top of their game. Who will represent the West in the Stanley Cup Finals is the big question.