Betting Odds for CONCACAF 2015 Gold Cup Final
July 25, 2015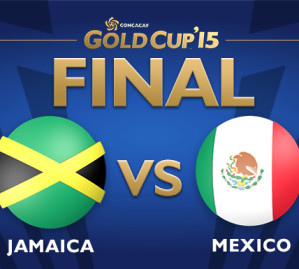 On Sunday evening, the final of the CONCACAF Gold Cup will be played between Mexico and Jamaica. The current line has Mexico favored at -109 and Jamaica at +290. A tie in regulation is being offered at +260, with the goal total sitting at 2.5.
Mexico is extremely fortunate to be in the final after recording a controversial victory over Panama in the semifinals. Luis Tejada from Panama was given a straight red card during the 25th minute leaving the Panamanians one player down early on.
Nevertheless, Panama scored first with a goal from Roman Torres in minute 57. It appeared that Panama would hold on to win, but a very questionable penalty was called with less than two minutes to play and gave Mexico its lifeline.
Andres Guardado was able to convert the penalty and he scored another during the first 15-minute extra period to secure the win for El Tri.
In the two knockout stage victories by Mexico, each of their three goals have been penalty shots, which means they have not scored from open play in more than 240 minutes of regular play.
Miguel Herrera, the manager of Mexico and his team, have a great opportunity to win on Sunday, but need a strong showing to quiet the doubters over their title have any legitimacy.
Jamaica reached the final with an impressive 2-1 win over the U.S. The Jamaicans played much stronger that the U.S. in the opening half to take a 2-0 lead into halftime.
After just three minutes of play in the second half, the U.S. drew within one goal on a Michael Bradley score, but Jamaica held tough the remainder of the match to secure the win.
Given the struggles by Mexico on offense, the UNDER on 2.5 looks like a strong play. Mexico has a bigger name on the international stage but Jamaica is playing very strong and could walk away with a 1-0 in regulation.