AFC West is NFL's Best Overall Division
July 27, 2017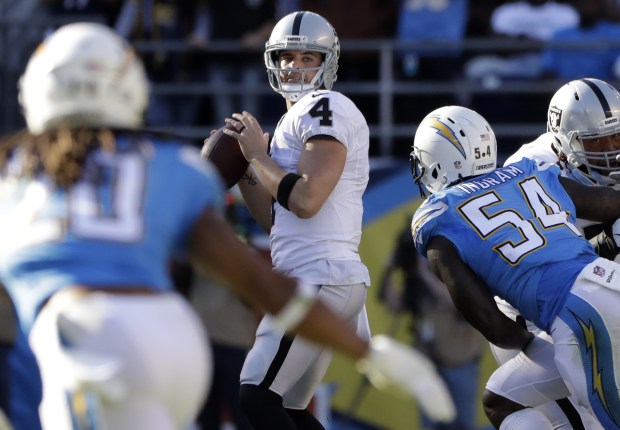 If you are looking for a strong NFL division top to bottom look no further than the AFC West.
Looking at just the numbers shows there are no poor teams in the AFC West. The Los Angeles Chargers are projected to finish last but have the tenth best betting odds to win the AFC championship, by far the best odds of any team predicted to finish last in their own division.
The odds on favorite to win the AFC West are the Oakland Raiders. The Raiders are currently 8 to 5 to take the title followed by the Kansas City Chiefs at 9 to 4, the Denver Broncos at 13 to 4 and the Chargers at 19 to 4.
Oakland deserves to be the favorite, but the Raiders cannot be complacent as the Chiefs snuck up on them last season to win the division title and could do that again.
Oakland has the division's best quarterback in Derek Carr. The offensive line between the tackles is one of the best in all of football.
However, the defense remains the weak link with the secondary needing to improve over last season. However, any defense with Khalil Mack anchoring it will be competitive.
The Chiefs will have veteran signal caller Alex Smith back again. Smith may not have the numbers other quarterbacks do, but he never puts his team in bad spots with errant interceptions or fumbles.
On defense the front line could be manhandled by a strong rushing opponent, but the secondary remains strong.
The Broncos have seen much change since last season, with a new head coach, new offensive coordinator and new defensive coordinator on the sidelines. The Denver running game will be its strength on offense while Trevor Siemian and Paxton Lynch will battle for the No. 1 quarterback spot.
Defensively, the Broncos remain very strong overall. The rush defense was not all that strong last season, but has added size and strength up the middle.
The Chargers will have veteran signal caller Philip Rivers under center for another season. Rivers needs more time in the pocket so he does not throw interceptions while being pressured. The offensive line is young so that could hurt to start the season.
Defensively, the Chargers have strong pass rushers and the overall defense can shut down opponents behind defensive end Joey Bosa, who was last season's defensive Rookie of the Year.
This will be a fun division to watch when they start playing one another head to head.