NCAA Football Championship Game Line Analysis and Pick
January 4, 2019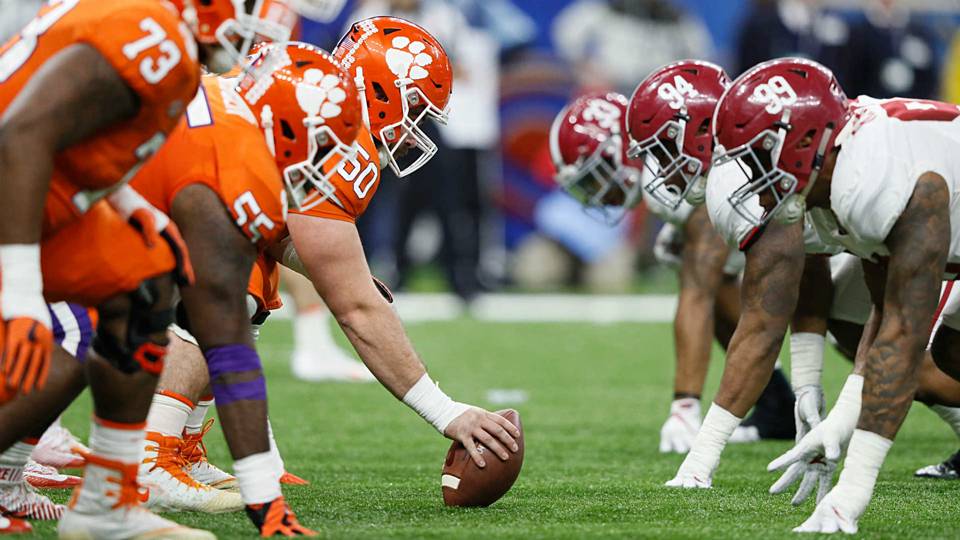 The line for Clemson vs Alabama was issued last Saturday night at Alabama -6 and total of 61. The line then instantly jumped to Alabama -6.5 and the total came down to 60. In the six days since the line was published, about 62% of the public has bet Clemson getting the points. This has steadily brought the line down to Alabama -5. The public is also betting the under. The total came down from 61 and is now sitting at 58 points.
Some of the hypothetical lines that were seen a month or two ago had Alabama favored by 8.5 points if they were to play each other that week. But, after Alabama struggled with Georgia in the conference championship game, and Clemson having easily dispatched of every team they have played, the perception of these two teams has changed.
Even though I can see a scenario where Alabama is struggling some, maybe the starting QB Tua Tagovailoa gets dinged up and Jalen Hurts comes into to save the day again, I realize that is more than likely not going to happen. That is the stuff that screen play writers come up with. In actuality, Alabama is in a class of their own and has more talent at third string than most programs have as starting players.
Mutual Opponents
If you use the MOF (mutual opponent factor) formula to handicap these two teams you get the following:
Game 1: Texas A&M
Both Clemson and Alabama played Texas A&M this year. Clemson won by two points at Texas A&M. Alabama won by 22 points at home. Factoring in the 6 point differential for playing away instead of playing at home, Bama theoretically would have won by 16 at Texas A&M. This is't exact science people. It is simply a way to try to handicap the game and understand the strength of the teams better.
Game 2: Louisville
Alabama beat Louisville by 37 points in their opening game of the season. Two months later, Clemson beat Louisville by 61 points. A real beat down! I would argue though, that these were two different Louisville teams. After Alabama beat Louisville, the Cardinals went on to win two games, beating Indiana State and Western Kentucky. Then the Cardinals decided to prepare for the future by switching out the QB position. They promoted red-shirt freshman Malik Cunningham over sophomore Juwan Pass. They then traveled to Charlottesville, Virginia and got smashed pretty good by the Cavaliers 27-3, a loss from which they would never recover and lose every single game after this (including the smashing at the hands of the Clemson Tigers). But it remains true that Clemson beat Louisville by 24 more points than Alabama did.
Final Conclusion and Official Pick
It is hard to handicap teams that don't play each other and that don't play many similar opponents. These two teams are definitely the cream of the crop of college football. There is no question that they should be playing one another this Monday. As good as Clemson is and as much as I would like to see Nick Saban eat a shitburger, I think Alabama  is just better than Clemson. You will see the coaching staff at Alabama clean up the mistakes they made last week when they played Oklahoma. Furthermore, I feel that Notre Dame was a very good team but not in the same echelon as an Alabama or a Clemson. Clemson beating the tar out of them didn't speak much to me. If I had to bet this one I would easily lay the point and take the Crimson Tide for yet another win and cover. If you are looking to bet this game online make sure to review the sportsbook grading section of our site. It is best to avoid sportsbooks with lower than a "B" rating.