Many Sportsbooks Lost on Sunday Despite Public Perception
January 21, 2019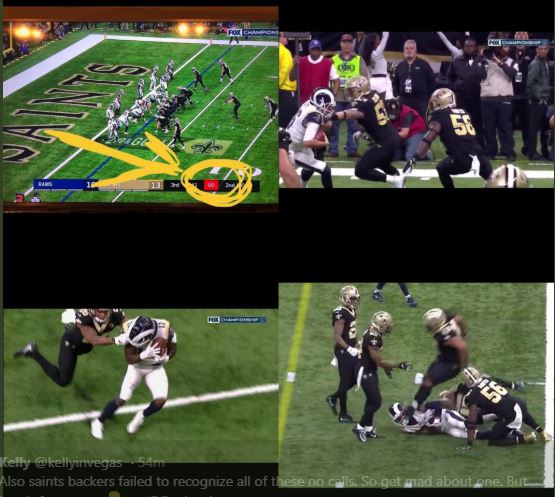 Yesterday there were some really bad missed called by the referees of the games. The most infamous of them was a missed pass interference call at the end of the Saints game. However, that game was riddled with missed calls on both sides. See main image for Rams missed calls – or to enlarge click here
Many fans took to social media to accuse the NFL of game fixing and there were plenty of comments from people saying that Vegas had its hand in the outcomes. These folks obviously didn't know what they were talking about, because, as we reported before the games, there was no major lopsided action from a consensus report taken just 24 hours before kickoff. There was some mild lopsided action on the saints moneyline at international sportsbook William Hill, but, not enough to fix a game over (haha).
Some sportsbooks didn't fare so well yesterday. As Brian from Youwager.eu stated: "The book had a great week… until we hit Sunday. Sunday turned everything upside down and we ended up losing big on Sunday. For the week we ended up fairly even. Now it's time to get geared up for the Super Bowl . The early favorites are the Patriots by a long shot. Line started at PK and went all the way to 2.5 by the end of Sunday night."
The lines are settling in at Patriots -2.5 as of right now but could move to 3 if the betting continues to come in on New England. I, personally expect there to be some sharp action on the Rams to hit the books fairly soon.
-Scott