Wild Disparity in Warriors Clippers Series Odds
April 13, 2019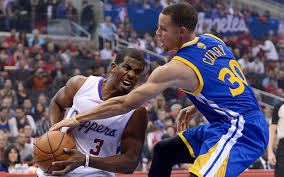 Sportsbooks have gotten a little beat up over the last few years with Warriors series and futures bets. They try to give the other teams the benefit of the doubt and have put fair series prices and championship futures odds on the board. This has only come back to bite them in the rear end as the Warriors have won 3 of the last four championships and every playoff series but one.
Sportsbooks are done screwing around. They have set the championship line at one of the highest in decades. The Warriors are -200 to win the championship at the start of post-season play. Even the 1997 champion Chicago Bulls were just 3-2 (+150) favorites and everybody knew they were going to win.
The championship odds aside, the series price for the round one matchup with the Clippers is astronomical. The opening line at Caesars in Vegas was 55-1 (-55000), the highest ever recorded for a series price. The series line has since come down to more reasonable levels but are still tremendously high. The disparity between the odds at sportsbooks is unlike any we have ever seen.
Ex 1: BetOnline
Ex 2: Heritage
Ex. 3: Intertops
The disparity between ex. 1 and ex. 2 for the favored Warriors is double. In sports betting terms that is huge. The disparity between the underdog Clippers payout between ex. 2 and ex. 3 is almost triple! Mind-boggling.
What does this tell us? Sportsbooks don't want to get beat up on the Warriors again. They are essentially daring you to take them.
I see the +3650 at Intertops and am tempted to throw a hundred on them just for entertainment value. If they win, I am $3650 richer.
On a side note, the examples above also prove how important it is to have access to multiple sportsbooks. It could literally make you thousands of dollars using the same bets and the same risk amount.
~ Scott