Miami Hurricanes Team Preview 2019
July 8, 2019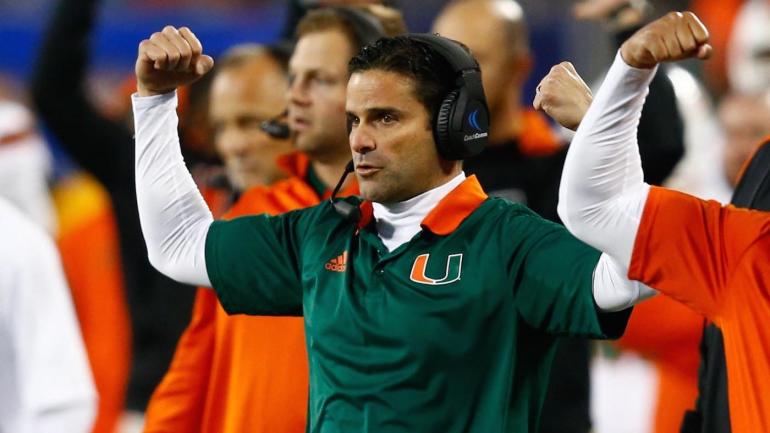 There are so many clunky sites that give you a ton of words and very little information. In this series of articles, we will preview the top college football teams in the country and give pertinent information such as: previous season records, returning players and coaches, defensive synopsis and season prediction.
We will rank each position as: Poor, Fair, Good, Excellent or as a "Wildcard" if there is talent and we just don't know how well they are likely to perform.
Offense
The Hurricanes are returning starting QB N'Kosi Perry. He threw for just 1091 yards and 13 TD's. He only started part of the season. He may battle with Sophomore Tate Martell for the starting nod. Verdict: Wildcard
Junior Running Back DeeJay Dallas is taking over as top RB. He compiled 617 yards last season and scored 6 TD's. He should shine in the starting role and get over 1,000 this season. His backup Cam'ron Harris is a solid player. Verdict: Good
Top returning WR Jeff Thomas had 35 catches for 563 yards last season. He had just 3 TD's. He , Mike Harley and K.J. Osborn have some work to do. They need to step up if this team is to be a contender. Verdict: WildCard
Conclusion: The offense of the 2019 Miami Hurricanes has five returning starters, two of which are on the line. The offense doesn't have enough on paper to place confidence in. This offense is suspect. Verdict: Wildcard
– Bet Hurricanes Football Now at one of the web's highest ranked sportsbooks  –
Defense
The defensive side of the ball should be a strength for Miami. They have six returning starters, one of which is an All-American candidate. LB Shaquille Quaterman had 6 sacks lasts season and looks to get even more this year.
Two returning D lineman will make the run defense pretty stout.  Trajan Brady is the only returning player in the secondary, but other players in this group look solid.
Defense Verdict: Good
---
Other notes:
First Year head coach: Manny Diaz
Last Year Record: 7-6
Last Years Against the Spread Record: 5-8
2018 Notable Wins:
vs UNC 47-10
vs FSU 28-27
at Va. Tech 38-14
vs Pitt 24-3
---
Conclusion:
With a new head coach and young unproven players its hard to feel very strongly that the Hurricanes will improve on last years record. But, if you look at the Miami Hurricane's schedule, there are plenty of teams they can beat. They have four cream-puff teams that will almost guarantee them at least four wins (Bethune-Cookman, Central Michigan, Louisville and Florida International). If they can win half of the other 8, they are looking at an 8 win season. The team-win betting total currently is 8.5 wins. It would be very hard to bet on over or under that number. If anything, I am leaning Under. Game one sees the Hurricanes play the Florida Gators in Orlando.