Virginia Football Preview 2019
July 29, 2019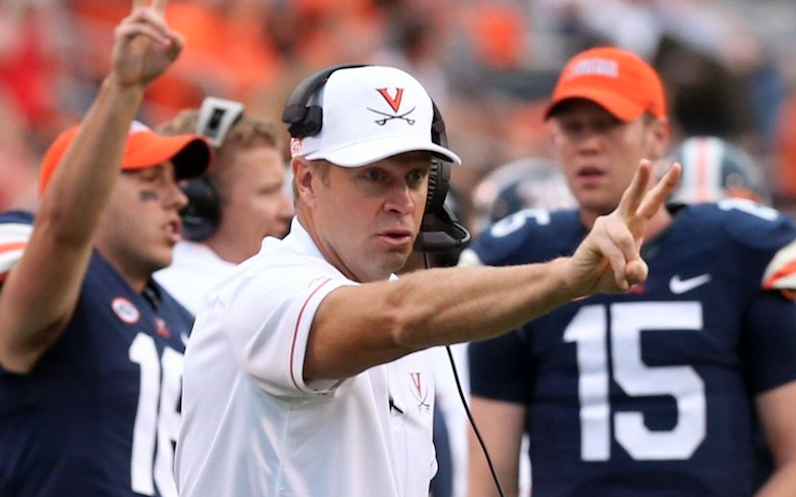 It's Bronco Mendenhall's fourth year as head coach and he and the Cavaliers are looking for big things in 2019. Mendenhall and his staff have had time to bring their recruits up and craft a game plan that will work best in the highly competitive ACC Conference.
Offense
The Hoos offense returns six players. QB Bryce Perkins threw for 2680 yards and 25 TD's. He also rushed for 923 yards and another 9 TD's. He is a true multi-threat QB. WR Hasise Dubois caught 52 balls for 578 yards and 5 TDs in 2018.
Three of the five offensive lineman are returning starters as well. The replacements will be a couple of young sophomores, which may be a little bit of a weak spot for UVA.
UVA averaged 28 PPG on offense. They will need to average a little more than this to have a shot at the ACC title. It is totally possible that they will.
Verdict: Good
---
Defense
Seven starters return from a decent 2018 defense that allowed 20 PPG. The secondary was one of the highlights last year as they only allowed 183 YPG. Cornerback Bryce Hall is a pre-season All American and the top NFL prospect on this team. Although he only had 2 Ints for 19 yards, he has great coverage skills and deflects a lot of passes (22 in all). Looks for his Int total to raise as he will be more aggressive and look to catch those balls instead of breaking them up.
The D'Line and LB's allowed 147 rushing yards per game in 2018. This number will have to be improved. LB Jordan Mack is a solid player that recorded 66 tackles last year and should get plenty more than that this year.
Verdict: Good
---
Other Notes
The Cavilers were 8-5 straight up in 18′
The Cavaliers were 9-4 against the spread in 18′
The Cavaliers special teams outgained opponents by 200 yards total.
Notable wins:
vs. Miami FL 16-13
@ Duke 28-14
vs South Carolina 28-0 in Belk Bowl
---
Conclusion & Betting
The Cavaliers have all the pieces in place to improve upon their 8-5 record. The have a few tough games on their schedule, @ Notre Dame and @ Miami, but these are winnable games too. Their sportsbook over-under win total now sits at 7.5 games and I think the Over is a solid wager.
Verdict: Good
The Cavs face Pitt in Pittsburgh in their opening game. UVA is favored by -2.5 points. I think this should be an easy win for UVA. Take the favorite.