Notre Dame Football Preview 2019
July 31, 2019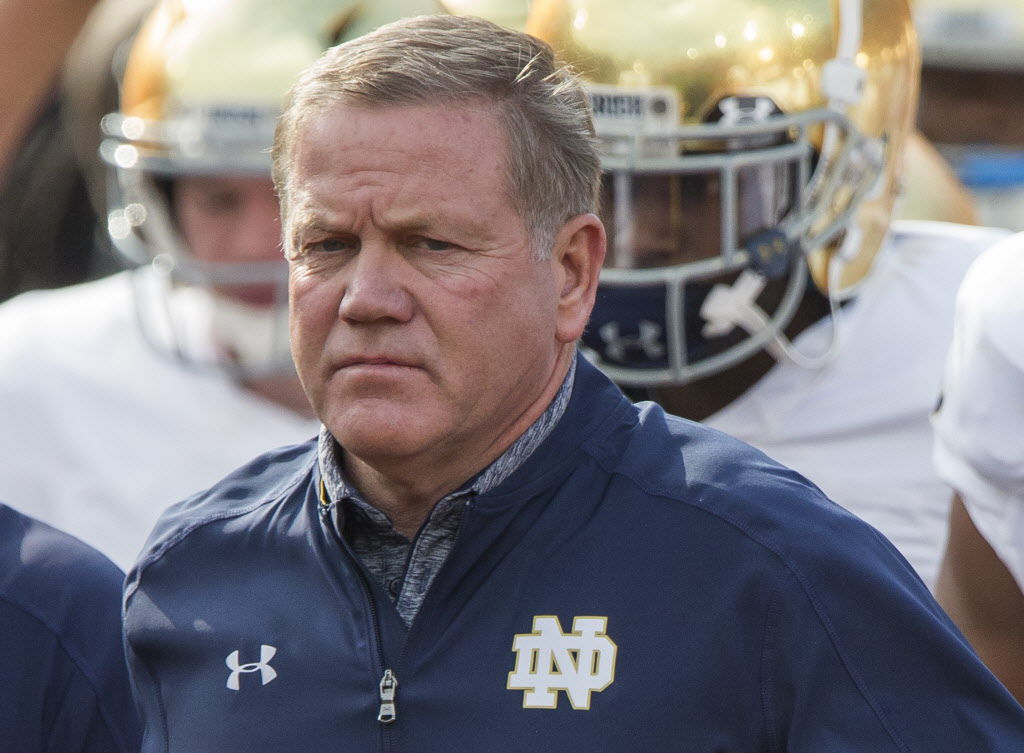 Its hard to believe that Brian Kelly is in his tenth year as Notre Dame's head coach. Seems like only a few years ago we were talking about that big guy from the Patriot's staff. Kelly is 81-35 in his tenure at Notre Dame.
We will review Notre Dame's offensive and defensive teams to make a determination based on available information as to how good they will be this year.
Offense
The offense returns eight starters in all. Right guard Tommy Kraemer is a 6'6″ 319 lb preseason all-American. He is one of four returning starters for the Fighting Irish offensive line. They will be protecting Ian Book, the senior QB who had 2,628 yards and 19 TDs passing in 2018.
Book will be handing the rock off to first year starter Jafar Armstrong. The RB is a big back and should get plenty of carries in an attempt to wear down defenses on the line of scrimmage.
WR Chase Claypool had 50 catches for 639 yards and 4 TDs last year. He is expected to really improve on those numbers this year.
Verdict: Good
---
Defense
Six starting players from last season's Notre Dame team are back to suit up for 2019. The defense lost two all-Americans however. They will need to plug a few holes left by graduating players. Upperclassmen make up most of this defense. There a few Juniors and couple sophomores in the lineup.
Still this defense looks pretty solid. Lasts season they only gave up 18.2 PPG. If they can keep this number close to the same, the Fighting Irish could be thinking playoffs yet again.
Verdict: Good
---
Other Notes
Notre Dame went 12-1 straight up in 2018.
Notre Dame was 6-5-2 against the spread in 2018.
Notre Dame outgained opponents by 600+ yards in passing and 500+ yards rushing.
Notre Dame was outgained on special teams by 500 yards.
Notable wins:
vs Michigan 24-17
@ Virginia Tech 45-23
vs FSU 42-13
@ USC 24-17
Make sure to follow us on our Twitter for regular updates and invaluable betting information
---
Conclusion
Notre Dame is about as talented as they were last season when they went 12-1. What they lost on defense has been made up for with experience.
Verdict: Good
---
Betting
They face Georgia pretty early on and this will be their first true test. If they can win at Georgia then anything is possible.
Notre Dame also has an @ Michigan to worry about. Georgia and Michigan are their two biggest challenges. Every other team on the schedule is beatable.
The sportsbook win total over-under is currently posted at 9.5 games. It is my personal opinion that this team should go over 9.5 wins (-150). They should be able to win 10 or 11 ball games.
Game one has the Irish playing at Louisville. The Cardinals were not good in 2018 and are looking to improve under a first year head coach. The spread has Notre Dame -20.5 points. This is one of those games that could land on a 20 or 21 point win by Notre Dame. But if you absolutely must bet this game, take the better team minus the points.