Louisville Football Preview for 2019
August 1, 2019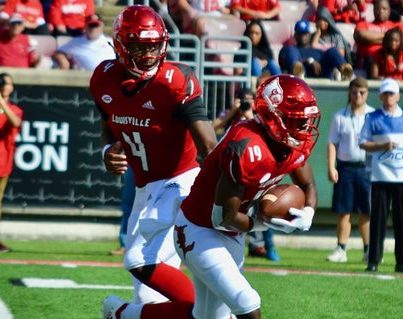 In this article we will take a look at the Louisville Cardinals football program and rate both the offense and defense for the year 2019. We will also take a look at their season win total as well as their first game spread.
Coach Scott Satterfield is in his first year as Louisville's head coach. He comes from Appalachian State where he was 51-24 over the last s six seasons.
Offense
The Cardinals return seven starters on offense this year. QB Jawon Pass, RB Hassan Hall and all three WR's are back. So, the skill positions are experienced. They will need improvement from last year when they were ranked 127th in scoring.
There is still some uncertainty on offense as sophomore Malik Cunningham may get some reps under center. Louisville is a rebuild project that needs to find some sturdy footing on which to pitch their tent.
Verdict: Fair
---
Defense
The defense was very bad last season. They ranked 122nd in the nation and allowed over 50 points on seven different occasions. The good news is that eight players from last year will return to start. The same players that allowed so many points and yards last year should be a bit better this season.
Verdict: Fair
---
Other Notes
The Cards went 2-10 straight up in 2018.
Louisville was 1-11 against the spread in 2018.
---
Conclusion
This team is in full rebuild mode but it has some experience. The head coach should be good for the program but he has only been on the clock since December. Look for Louisville to put together more wins than they did in 2018, but not a whole lot more.
Verdict: Fair
---
Betting
The sportsbook total win over under for Louisville is 3.5 wins. This total seems about right but if I had to pick over or under I would take the over 3.5 games (-125). The experience and new coach may put together four or five wins.
Game one sees this Louisville team face Notre Dame. The point spread is Notre Dame -20.5 points. This spread seems pretty fair. If you absolutely must bet this game, take Notre Dame minus the points. They have much better talent and a much more experienced coaching staff.