Michigan Football Preview 2019
August 7, 2019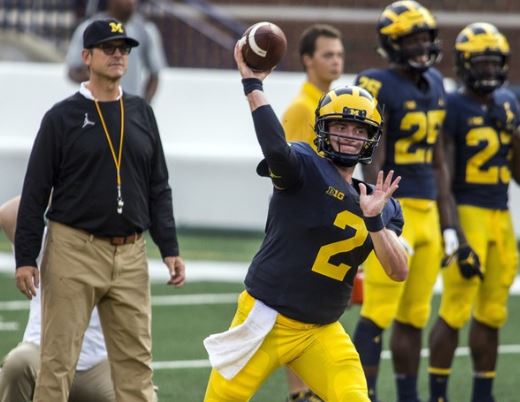 Today we are taking a look at Michigan Wolverine football for the year 2019. We will be ranking the team offense, defense and the team as a whole on a scale of: poor, fair, good, excellent. We may sometimes use the rating of "wildcard" for a team that has huge potential but is unproven on the field.
Coach Jim Harbaugh enters his fifth season as Michigan head coach. He has had great success at Michigan but has failed to deliver three things: 1) A win against hated rival Ohio State 2) a Big Ten championship and 3) a national championship. The Ohio State win would be enough to satisfy many fans. Michigan has not beaten Ohio State in 8 full seasons.
Offense
Eight returning starts will take the field for the Wolverines this year. QB Shea Patterson had 2600 yards passing as well as 22 TDs in 2018. He is very efficient and effective.
The RB position will feature several players. It may be a RB by committee approach. Tru Wilson leads returning RB's in yardage with 364, a TD and a stellar 5.9 yards per carry average.
Four of five starters are back on O line. This is a solid group. The Michigan offense scored 35 PPG last year. Look for that number to improve some.
Verdict: Excellent
---
Defense
Just four starters are back from 2018. Luckily for the Wolverines, this includes CB Lavert Hill. Hill is a preseason All-American with NFL potential.
This group allowed 19 PPG in 2018. There is plenty of senior talent on this squad to pick up where they left off last year.
Verdict: Good
---
Other Notes:
Michigan was 10-3 straight up in 2018.
Michigan was 6-7 ATS in 2018.
Notable wins in 2018:
@ Northwestern 20-17
@ Michigan State 21-7
vs Penn State 42-7
---
Conclusion
Harbaugh and his Wolverines look pretty solid. The Offense should really score some big points. The defense should be good enough to keep the Wolverines competitive no matter what team they play.
They do have some tough games: @Wisconsin, vs Iowa, @ Penn State, vs Ohio State., but I think they can win them all. Big Blue is my pick for Big Ten champion this year.
Verdict: Excellent
---
Betting
The team win over-under at online sportsbooks is 9.5 games. I am bullish on Michigan this year. I say take the over. If Michigan doesn't beat Ohio State and doesn't win the Big 10 this year, we may be looking at the end of the Jim Harbaugh era. But I think he and his guys will step up to the plate and deliver both of those things.