Wisconsin Football Preview 2019
August 16, 2019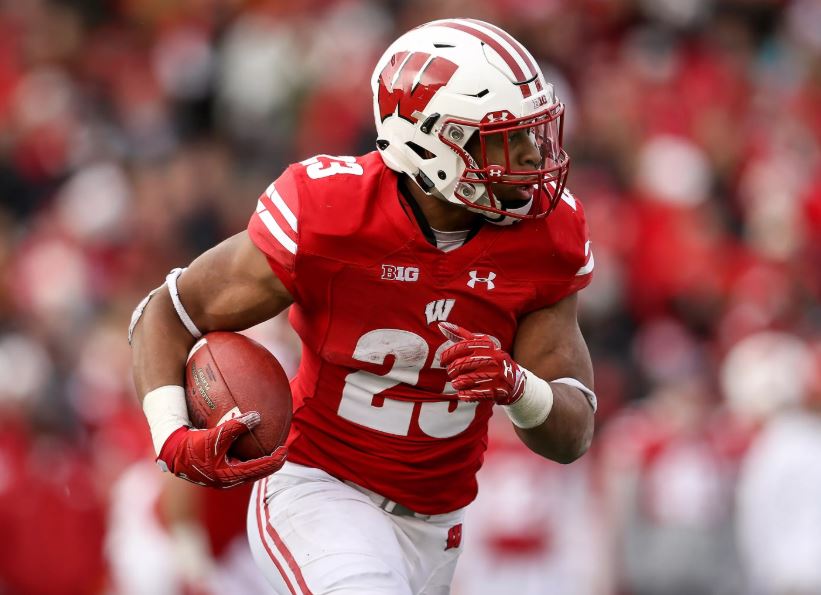 The Badgers of Wisconsin will be under fifth year head coach Paul Chryst. He is coming off his worst year as a Wisconsin head coach with a 8-5 record. He will have his work cut out for him in playing in the Big Ten with a freshman QB and almost an entirely new offensive line.
In this article we will preview the 2019 Wisconsin Badgers and give our opinion as to whether the offense and defense are: poor, fair, good or excellent. We hope that this primer serves our readers well in handicapping Wisconsin football games.
Offense
Five returners are back for Wisconsin including two pre-season All-Americans. Those two players are RB Jonathan Taylor and Center Tyler Biadasz. The Badgers also have two returning starting receivers as well as their TE.
The offensive line plugs in four new starters. They are all upperclassmen that have some real on-field experience.
The QB position is open for competition but it looks like freshman Graham Mertz will get the nod. He is a true freshman and had scholarship offers from Alabama, Clemson, Georgia and Ohio State. He chose Wisconsin so he would have a chance to play right away.
RB Jonathan Taylor rushed for 2,194 yards and 16 TD's. He averaged an amazing 7.1 YPC.  How you can top that I don't know.
Verdict: Good
---
Defense
Six starters are back for the Badgers defense. They are spread evenly throughout the position groups. DL has two returning starters, DB's and LB's both have two returning starters as well.
The cornerback and DE position seem to be the strength of this defensive team. So, if teams want a shot at exposing Wisconsin's defense they should run and pass right up the middle.
Verdict: Good
---
Other Notes:
Wisconsin was 8-5 straight up in 2018.
Wisconsin was 4-9 against the spread at sportsbooks in 2019.
Wisconsin outgained opponents by about 300 yards on special teams in 2018.
Wisconsin was +1 in turnovers in 2018.
2018 Notable wins:
@ Iowa 28-17
vs Miami FL 35-3
---
Conclusion
The bottom line is that Wisconsin is an uncertainty at QB and in the defensive middle. They beat two decent teams last year and lost to some they shouldn't have, ie., BYU, Northwestern and Minnesota. This year will probably look a lot like last year. They will be good enough to have a winning record, that is for sure. But will they be good enough to compete for the Big Ten title? Probably not.
Verdict: Good
---
Betting
A lot depends on the QB. If they get consistent play out of that position, Wisconsin can win 9 ball games. Currently, the sportsbook total win over-under is set at 8 games. Like I said, this year will probably feel a lot like last year. This team will probably start with a few wins then when they get into the meat of the conference schedule, they will win every other game. Can they win more than 8 games? Yes. Will they? I wouldn't risk my hard earned money on it.