Iowa State Football Preview 2019
August 17, 2019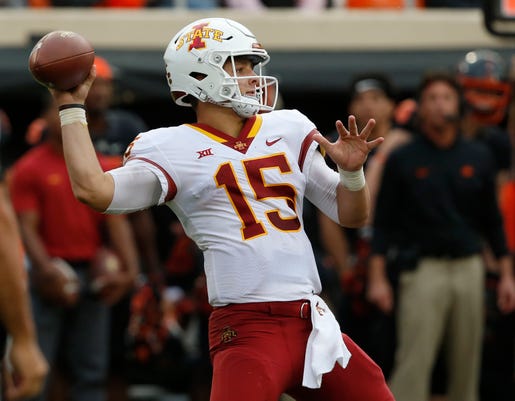 The 2019 Iowa State Cyclones are under the tutelage of fourth year head coach Tom Manning. The Cyclones are starting to see his efforts pay off as they have posted winning records the last two seasons after languishing in the cellar for years.
In this article we will preview the offensive and defensive team of Iowa State and rate them on a scale of poor, fair, god or excellent.
Offense
Six starters return to this offense in 2019. QB Brock Purdy is back and he is only a sophomore. He had a solid season last year throwing for 2,250 yards and 16 TD's and running for another 308 yards and 5 TD's. Coach Manning will be looking for his QB to take his play to the next level in 2019.
The offensive line is the strongest group on this team. Four of the five starters are returning starters and four of the five are also seniors. The Cyclones averaged 130 rushing YPG in 2018. With this offensive line it would be criminal not to run the ball more and try to get those numbers up.
Senior RB Sheldon Croney Jr. will get his first shot at starting in the backfield. You will see him share his duties with junior Kene Nwangwu.
The Receiving corps looks decent. Deshaunte Jones is a returning starter and Tarique Milton, who had the highest total among returning receivers ( 417 receiving yards), is also back.
I was hesitant to rate this offense as good but I will do so because the QB can pass and run pretty well. The offensive line should be able to provide good running lanes for the RB's. The WR's are pretty solid.
Verdict: Good
---
Defense
Seven starters from 2018 are back this year. DE Jaquan Bailey is being scouted by NFL teams. He had 8 sacks last season.  He is a top notch player.
The rest of the DL is senior players and should offer experience plus good effort. They are a solid group.
The cornerbacks are young. Two sophomore first year starters will be at those key positions. Luckily for them they have two veteran safeties helping them out. But, passing defense will definitely be a concern for the Cyclones.
Still this defense is good enough to compete with any team in the Big 12.
Verdict: Good
---
Other Notes:
The Cyclones were 8-5 straight up in 2018
The Cyclones were 6-7 against the spread in 2018
The Cyclones were +1 in turnover ratio
Notable wins:
@ Oklahoma State 48-42
vs West Virginia 30-14
vs Texas Tech 40-31
vs Kansas State 42-38
---
Conclusion
Iowa State's team this year will be very much like last year's team. They will be able to beat bad and mediocre teams but struggle with the good or great teams.
The centerpiece to this team is how well QB Purdy plays. He will be passing and running his way into the end-zone. If he gets injured all bets are off.
Verdict: Good
---
Betting
The Cyclones team win over-under for 2019 is 8 games. Looking at their schedule I can see them winning about 8 ball games. So, true to form, the over-under is a tough number, as it should be. But, if I had to pick one side or the other of this number I would go Under. This is because the QB will be exposed running all the time and for Iowa State to win 8 or 9 ball games he will have to stay healthy. I would never bet on the over 8 games when those wins rest on a QB who will be running around like chicken with his head cut off.
Yes, Iowa State should be a little better than last year's team that went 8-4 in the regular season. But they are also AT West Virginia this time and @ Kansas State. They had these teams at home last year and lost one and beat the other by 4 just four points.
Schedule
vs Northern Iowa
vs Iowa
vs Louisiana-Monroe
@ Baylor
vs TCU
@ West Virginia
@ Texas Tech
vs Oklahoma State
@ Oklahoma
vs Texas
vs Kansas
@ Kansas State