NFL Odds – Jay Gruden Fired – Who's Favored to Go Next
October 7, 2019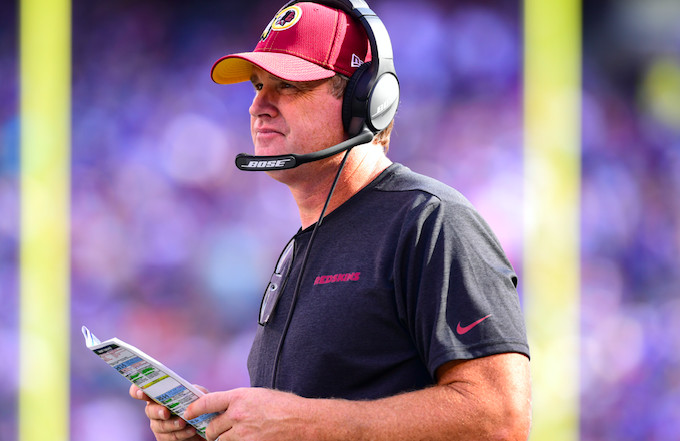 This morning, the powers that be at Washington Redskins' headquarters summoned their head coach Jay Gruden, brother of famed Super Bowl winning coach Jon Gruden, to their main office bright and early. In fact, it was so early that it wasn't even bright yet. At 5 am, Jay Gruden had a meeting with team owner Dan Snyder and other Redskins top brass so that they could inform him that his services were no longer needed. In other words, Jay Gruden was fired.
Gruden was the odds on favorite to be fired first this season. These odds were set before the season had begun. His coaching record at Washington wasn't horrible. He was 35-49-1. He had one winning record and one playoff appearance in his 5+ seasons with the 'Skins.
Last season looked as if it could to be his most successful yet. The Redskins had a good start until their QB Alex Smith suffered a horrible leg injury. Washington was 6-3 with Smith as starter. They went on to post a 1-6 record afterward and missed the playoffs.
This past offseason, Gruden and company brought in the journeyman QB Case Keenum to fill the vacant QB role this year and just about everyone in football knew this was Gruden's last shot. 2019 has been a disaster for Gruden and the 'Skins. They have started with an 0-5 record and lost embarrassingly to New England 33-7 on Sunday.
Below are the odds of which coach wil be fired first from the start of the season. The new, readjusted odds, have not been posted yet, but you can bet the order will move up a spot. When we get firm updated sportsbook odds we will post it as NEXT NFL HEAD COACH FIRED ODDS.
| Coach | Odds |
| --- | --- |
| Jay Gruden | +333 |
| Pat Shurmur | +850 |
| Matt Patricia | +900 |
| Bill O'Brien | +1200 |
| Dan Quinn | +1200 |
| Doug Marrone | +1200 |
| Jason Garrett | +1500 |
| Mike Zimmer | +1500 |
| Adam Gase | +2000 |
| Brian Flores | +2000 |
| Mike Tomlin | +2000 |
| Ron Rivera | +2000 |
| Kliff Kingsbury | +2500 |
| Sean McDermott | +2500 |
| Anthony Lynn | +3000 |
| Freddie Kitchens | +3000 |
| Mike Vrabel | +3000 |
| Kyle Shanahan | +3500 |
| Matt LaFleur | +3500 |
| Pete Carroll | +4000 |
| Vic Fangio | +5000 |
| Bruce Arians | +5000 |
| John Harbaugh | +5000 |
| Jon Gruden | +5000 |
| Zac Taylor | +5000 |
| Frank Reich | +7500 |
| Matt Nagy | +7500 |
| Sean Payton | +10000 |
| Andy Reid | +10000 |
| Doug Pederson | +10000 |
| Sean McVay | +10000 |
| Bill Belichick | +15000 |