Only Four Players on Heisman Odds + Our Pick
October 25, 2019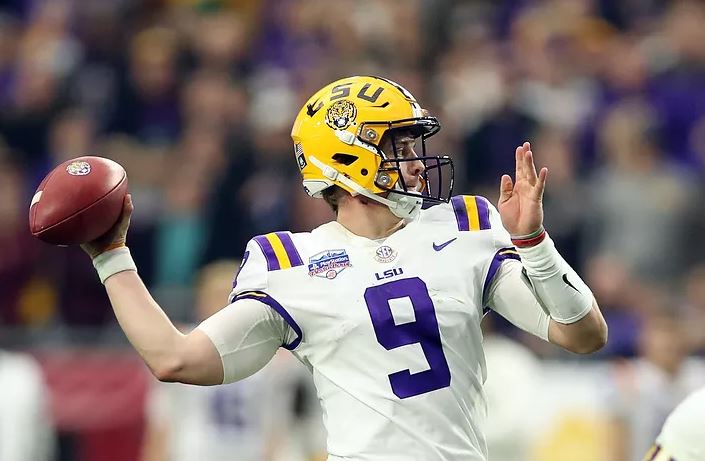 The college football regular season is 2/3 completed and the best players have really set themselves apart thus far. Early season favorite Trevor Lawrence has dropped off the map as he has compiled decent stats, but stats that are not Heisman-worthy. Lawrence has thrown for 1,534 yards and 14 TD's with 8 INT's. His team is undefeated but has slowly moved down the polls to the number four spot after unimpressive wins.
The real Heisman story is how Joe Burrow (QB from LSU) who wasn't on the pre-season odds list, has shot up to the number one overall favorite. His stat-line is 2,483 yards with 29 TDs and only 3 INT's. His team in undefeated and ranked #2 overall in the AP. Burrow will be tested Saturday as he and his Tigers face #9 Auburn.
Tua Tagovailoa was the overall leader for many weeks but following last week's game vs Tennessee where he threw only 155 yards with 0 TD's and 1 Int, his stock fell. It should be noted he was injured in this game and suffered a high-ankle sprain and will be out for at least ten days. Back-up Mac Jones will play for the Tide as they face Arkansas on Saturday.
Current Heisman Trophy Odds

| Player | Odds |
| --- | --- |
| Joe Burrow | +125 |
| Jalen Hurts | +200 |
| Tua Tagovailoa | +300 |
| Justin Fields | +900 |
Jalen Hurts is number two on the Heisman list and is our pick to win it. Granted, the rest of Oklahoma's schedule is not very easy, Oklahoma will be favored in all of them. This will really give Hurts a chance to shine even more. The Heisman voters would love to vote for this guy because of the story attached to him. Gets benched at Alabama, stays humble, transfers, then beats guy he got benched for in Heisman race. Trust me, they all want it to happen.
Hurts stat line looks like this: 2,074 yards passing, 20 TD's and only 3 picks. But the key stat-line is he has 705 yards rushing and 10 TD's. This is 2 more TD's rushing than his best previous year.
Last but not least on the list is Justin Fields. The QB from Ohio State is the "long-shot" at 9/1 odds. He has put together a hell of a year and Ohio State has been decimating their opponents. Fields has passed for 1,492 yards with 22 TD's and only one INT. He has rushed for another 291 yards and 8 TD's. The guy is having a great year. If he had a several hundred more passing yards he would be in better position to win this.