Fiesta Bowl Ohio State vs Clemson Free Pick
December 25, 2019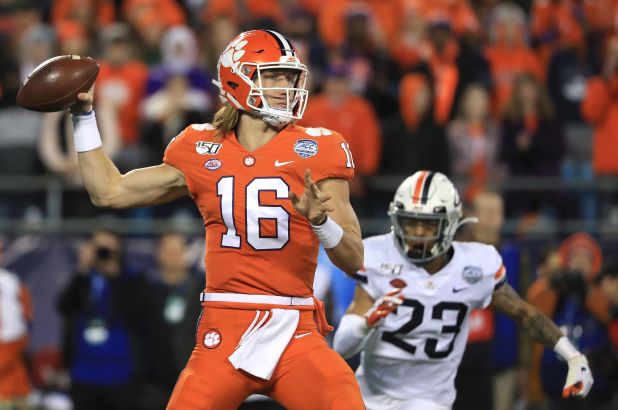 On Saturday December 28, 2019 at 8pm EST we will be treated to the second game of the NCAA college football playoffs. This matchup is truly the best matchup of the entire season. #3 Clemson (13-0) vs #2 Ohio State, the ACC Champion vs. The Big Ten Champion. The point spread is currently Clemson -2 points and the total is set at 63 points. The betting action is about even with slightly more people betting Clemson (58%).
Clemson
The juggernaut Tigers score 46.54 PPG and allow just over 10 PPG. They are 10-3 against the spread. Tiger QB Trevor Lawrence was a Heisman candidate half of the year but his numbers lagged a little bit as the season wore on. Still he had a fantastic year throwing for 3,172 yards and 34 TD's and 8 picks. He rushed for 407 yards and 7 TD's. He is still a great QB and makes laser-like accurate throws (68% completion rate).
Travis Eitenne rushed for 1500 yards and 17 TD's and averaged an outstanding 8.2 YPC. This guy is a weapon and Ohio State will have their hands full.
Other than squeezing out a win against UNC (on a failed two point conversion by the Tarheels) the Tigers blew out every team they played. They beat Texas A&M by 14 but that score wasn't indicative of how well they handled the Aggies.
Ohio State
This team is also a powerhouse. Their games were all blowouts too except for the 11 point win against Penn State as well as their 13 point win in the Big Ten championship game over Wisconsin. QB Justin Fields threw for 2,953 yards and 40 TD's with only one single interception, a truly unreal accomplishment. He also ran for 471 yards and 10 TD's.
Running back J.K. Dobbins had 1,829 for 18 TD's. He was an almost unstoppable forced on the ground for the Buckeyes.
I haven't seen a more intriguing and evenly matched-up game all year. This one is a tough one to handicap.
Trends
Ohio State is 9-3 ATS in its last 12 games.
Clemson is 7-1 ATS in its last 8 games.
So what's going to give? The tiniest edge belongs to Clemson is the fact that they have players that have championship game winning experience. This is probably why the game is Clemson -2 and not a pick em'.
The edge of playing out-of-conference teams belongs to Clemson as well having beaten the aforementioned Texas A&M Aggies as well as man-handling South Carolina (who beat the Georgia Bulldogs).
I have to take Ohio State in this matchup however. There is nothing that leads me to believe that Clemson can handle the two-prong rushing and passing attack of Dobbins & Fields. Also, if the Ohio State defense can get into the Tiger's backfield, which they certainly can with Heisman candidate Chase Young, then the rhythm of the Clemson offense will be disrupted. I think Chase Young is the deciding edge. He had 16.5 sacks and you can bet they have some special twists and stunts planned for him against Clemson.