Phillip Rivers Next Team Odds
February 13, 2020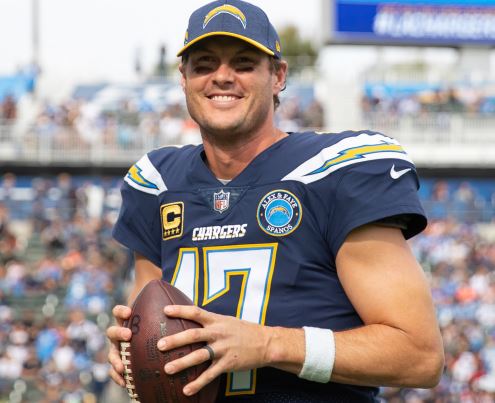 NFL QB Phillip Rivers is a man without a team. He and the L.A. Chargers have parted ways. The 16 year vet is now free to sign on with any team that will have him.
Some offshore sportsbooks have placed odds on where Rivers will land next. These are kind of a fun prop bet if you feel you have an inclination as to which team will sign Rivers. Or, even better if you have some inside information from people 'in the know'.
The overall favorite to sign Rivers is Tampa Bay. They are currently priced at +150. This is because their QB, Jameis Winston, has had a miserable go of it. Many speculate that they will not resign him. Although, he did get lasik surgery this week so maybe he will improve. Many people see Rivers as an upgrade from Winston but if you saw Rivers play in 2019, you probably saw him throw a lot of fluttering passes. I just don't think he has much left in his arm. I could be wrong.
Indianapolis is +275 to sign Rivers. They had a disappointing 2019 season that started with their franchise QB Andrew Luck retiring early. This forced Jacoby Brissett into the starting role. Brissett started the season well but collapsed over time and the Colts missed the playoffs.
The Carolina Panthers are +500 to sign Rivers. Their situation is also grim. Cam Newton appears to be worn out. Their backup is not very good. But there is still a chance that Newton gets healthy and starts. Rivers wants to be guaranteed a starting spot, so Carolina probably won't be his final destination.
The Las Vegas Raiders are also +500 to sign Rivers. There has been talk of Chucky moving on from Derek Carr but I really don't see that happening. I think Chucky likes Carr and will give him this year to make the playoffs.