2020 NFL Online Survivor Contest
August 26, 2020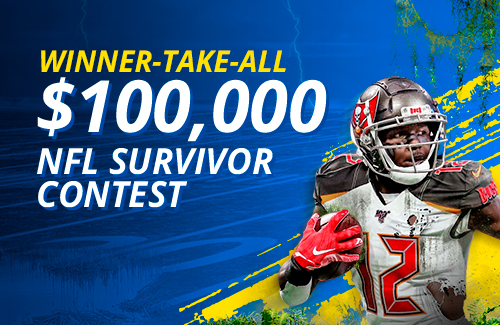 If you are looking for the 2021 NFL Online Survivor Contest click here
If you are a fan of playing online contests for real money look no further than the 2020 SportsBetting.ag NFL Survivor Contest. This a winner take all contest where the lone survivor gets to keep all $100,000. If more than one survivor remains at the end, contestants will split the $100,000 prize evenly.
In case you are not familiar with a survivor pool, this is when you pick one NFL team each week to win. But once you have used that team they are no longer on your board of teams you can use the following weeks. You will use a different team each and every week of the contest. If you make it through all 17 weeks without a loss, then you win the contest.
Entry into this pool is $25. And you have the option to enter multiple entries. There is even a discount rate if you do this;
One entry: $25
2-5 entries: $20
6-10 entries: $15
11-25 entries: $10 each
The deadline for this contest is Monday, Sept. 14 at 7pm (ET) of 2020.
There is a rule in place that is very relevant to this year with the covid-19 pandemic. That rule is as follows:
If a game is canceled or postponed for any reason and the game is not played before the following Wednesday, both teams scheduled to play in that game will be graded as losers. If you selected either of those teams you will be eliminated from the contest; however, your buy-in will be refunded.
To Enter:
Sign Up at SportsBetting.ag
Deposit Money
Click "Contests" in the main navigation
Find the NFL Survivor Contest and Click Enter Contest