Free Perfect Parlay Contest Wins You $100K
September 25, 2020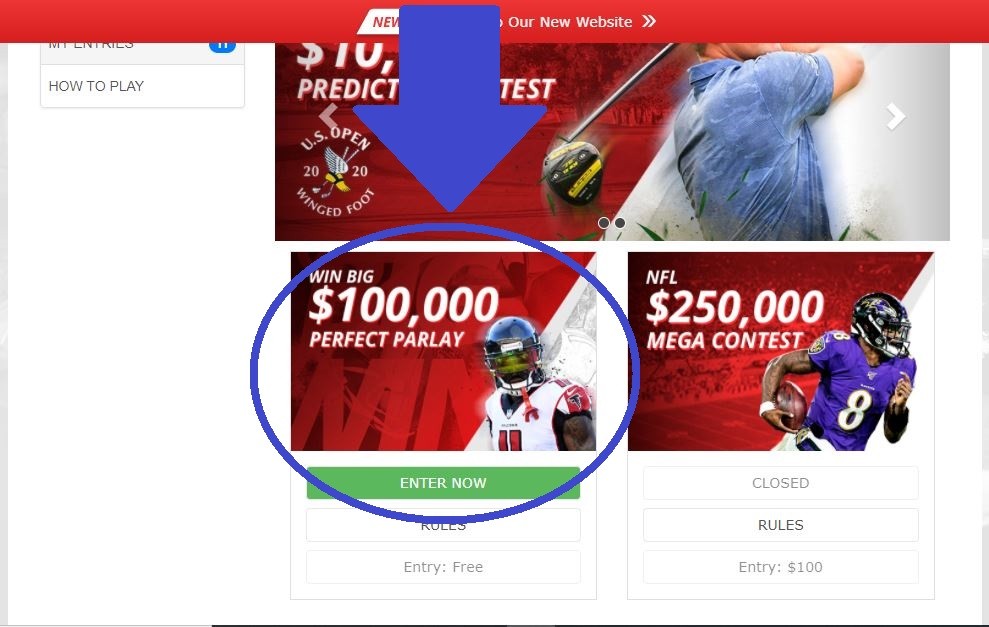 Can you go 16-0 picking NFL games this weekend? Probably not. But, stranger things have happened. Why not give it a shot for free? BetOnline is offering a NFL parlay contest where you pick 15 games & a total for your chance to win $100K.
You must pick all 15 NFL games against the spread as well as the total for the Ravens vs Chiefs game (54 points). If you do this then you get 100K.
How to Enter:
Sign up or log-in at BetOnine.ag
Deposit funds by clicking "Cashier' (At least $50 – #4 item below).
Click "Contests" button.
Click "Enter the Big $100K Perfect Parlay Contest".
Enter Picks.
That's it! Its that freaking simple.
Odds of Hitting
According to the folks over at RX Forum, the true odds of hitting a 16 team parlay are 65,536 to 1. Those are some real long odds. But you'll never win if you never play, that is 100% certain.
Other rules and fine print:
The $100,000 Perfect Parlay is a weekly NFL contest offered from Week 3 through Week 17 of the 2019 regular season.
The contest opens every week on Wednesday afternoon and closes Thursday's at 8:10 pm (ET). For Week 17, the contest closes at 12:55 pm (ET).
The objective of the $100,000 Perfect Parlay is to correctly predict each of the 16 listed NFL games either against the spread or the game total. Correctly select each of the 16 games and you can win the $100,000.
This is a free contest to enter; however, you must place at least $50 worth of real money wagers over the previous seven days.
If you correctly predict each of the 16 games and meet the necessary bet requirement, you must send an email to [email protected] within 48 hours after completion of the Monday Night Football game to claim your $100,000. Please put "Perfect Parlay Winner" as the subject line and include your username in the body of the email.
If you do not claim the $100,000 within the stated timeframe, the $100,000 will be forfeited.
If no one correctly picks all 16 spreads/totals, the $100,000 will not be awarded that week.
Game totals will be used during bye weeks and when not all of the spreads are available on Wednesday afternoon.
If numerous contestants qualify for the $100,000, it will be split up evenly amongst them.
A push will be graded as a loss.
If a game is cancelled, it will be graded as a loss.
Only one entry per account is permitted. Additionally, placing entries from multiple BetOnline accounts is prohibited and will result in disqualification.
The $100,000 will be paid into the winner(s) account(s) within 72 hours after receiving their claim email.
BetOnline has the right to change, amend and/or cancel this promotion at any time without notice.